Talking to the Ancients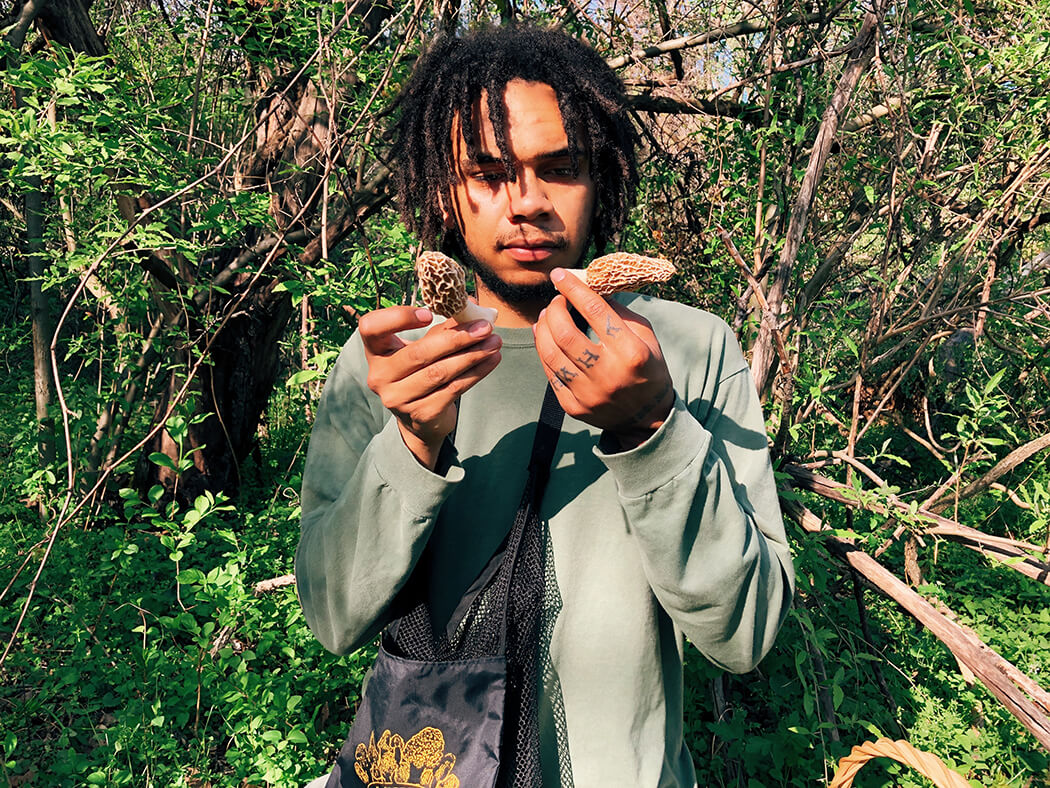 William Padilla-Brown is
Revolutionizing the Mycology World
by Rebecca Bengal
On his recently released single "Elysium,"
William Padilla-Brown raps about Atlantis and auras
and talking to the ancients.
The song appears on his new album, YOD, recorded under the moniker It's Cosmic due out late this month, with a cover illustration that depicts his radiant face encircled by mushrooms of every color. Crowning his head are cordyceps—the otherworldly, elongated, bright orange fungi which are as central to Padilla-Brown's songs as they are to his other life as the founder of the mushroom cultivation company MycoSymbiotics. This month, his other release happens to be the second edition of his handbook on cultivating cordyceps.
"It's all connected," he says.
Simply by being himself, a good-humoredly wise-cracking scientist-musician who shows up in streetwear to give lectures at conferences and schools about sustainable gardening and healing and who most wholeheartedly does not resemble a stereotypical white bearded forager, Padilla-Brown is revolutionizing the mycology world.
Since 2015, the 25-year-old Pennsylvania–, North Carolina–, and Colorado–based self-taught mycologist has infused rap with old-soul wisdom, and the permaculture and mushroom worlds with a transformative, unserious attitude aimed at educating a wide-ranging group of newcomers about the multiple benefits of fungi, in person and virtually. You can find him on Instagram beaming in sun-dappled woods as he holds up a just-foraged batch of giant porcini varieties (caption: "I love BIG BOLETES and I can not lie about this") or taking his young son Leo out hunting for chanterelles and later crowd-sourcing his followers for new recipes; podcasting on his company's home page; on Facebook at mycosymbiotics; and giving his own video tutorials on setting up a DIY mushroom lab on his Apex Grower YouTube channel.

When we speak in late 2019, Padilla-Brown darts nimbly and excitedly in conversation around all the worlds he inhabits. He gives a shout-out to one of his favorite predecessors in the field—"There've been some incredible women in foraging history," he points out. "Beatrix Potter, the woman who wrote Peter Rabbit, was a famous mycologist."
He's riding high from a successful morning at a favorite foraging spot — and after a workshop on spirulina and algae he'd recently given in New York.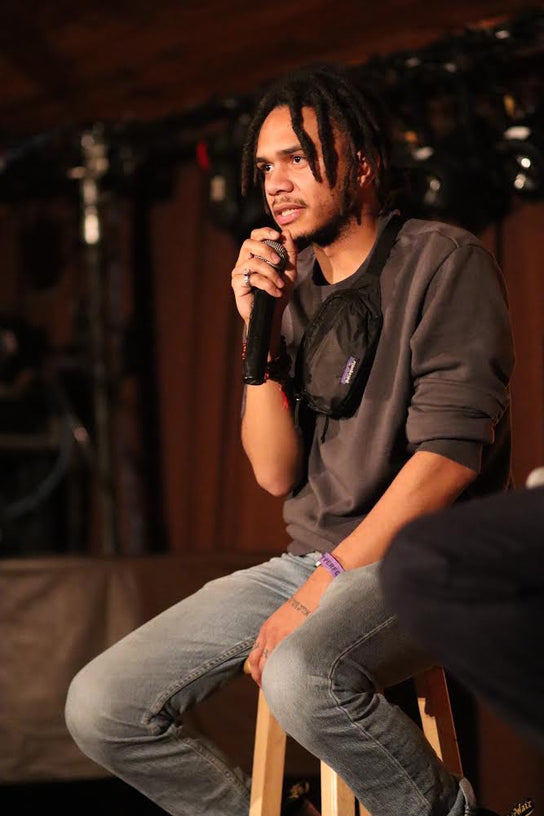 "I believe they are the beginning and end of life," he says. "I talk to people about how algae is one of the first photosynthesizers on Earth."
Giving those kinds of classes and teach-ins are among his favorite parts of what he does. Raised by parents working for the USDA and the Army, Padilla-Brown was moved between London, Taiwan, Mexico, and finally Pennsylvania. At 16, frustrated by the fragmented education that came with that life, he left school to focus on his primary interests—music, biology, permaculture. "I would love to have been classically trained, but it just wasn't on my radar," Padilla-Brown says. "Science and academia and the natural world in general are not promoted in pop culture, and that's what gets the most attention of most people of color in lower socioeconomic areas in cities."
"Science and academia and the natural world
in general are not promoted in pop culture."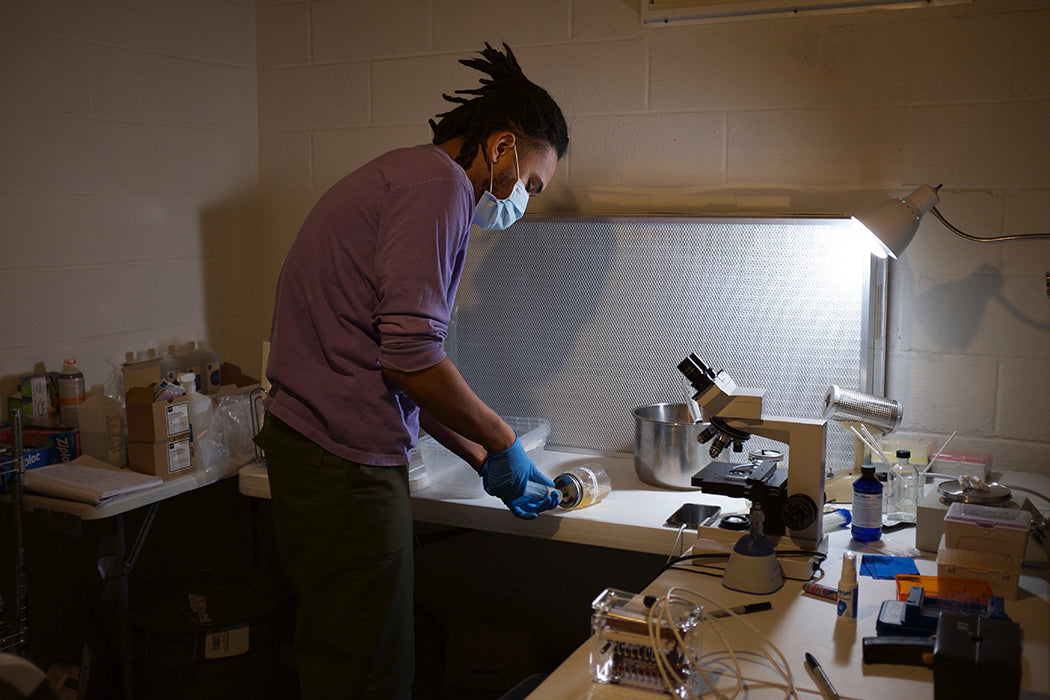 Between shifts as a restaurant server, Padilla-Brown first taught himself the way he now teaches so many others, watching online tutorials to learn how to cultivate mushrooms ("I tell people I'm a graduate of YouTube University," he likes to say). He sourced equipment from university auctions and made a DIY humidifier using a pond fogger, buckets, and fans—the roots of what would become MycoSymbiotics.
Not long after he launched the company, while foraging in a Pennsylvania forest, Padilla-Brown and a friend came upon a strange spindly orange fungi in the wild. Intrigued, Padilla-Brown read up on cordyceps, which have long been used in traditional Chinese medicine (most of its 400 species stem from countries in Asia). Cordyceps are antioxidants believed to have immunotherapy value, with some studies showing their benefits in treating arrythmia and diabetes; they are thought to be an aphrodisiac and to have anti-aging properties. "They give you energy on a cellular level, increasing your oxygen," Padilla-Brown says. Immediately he wanted to grow his own.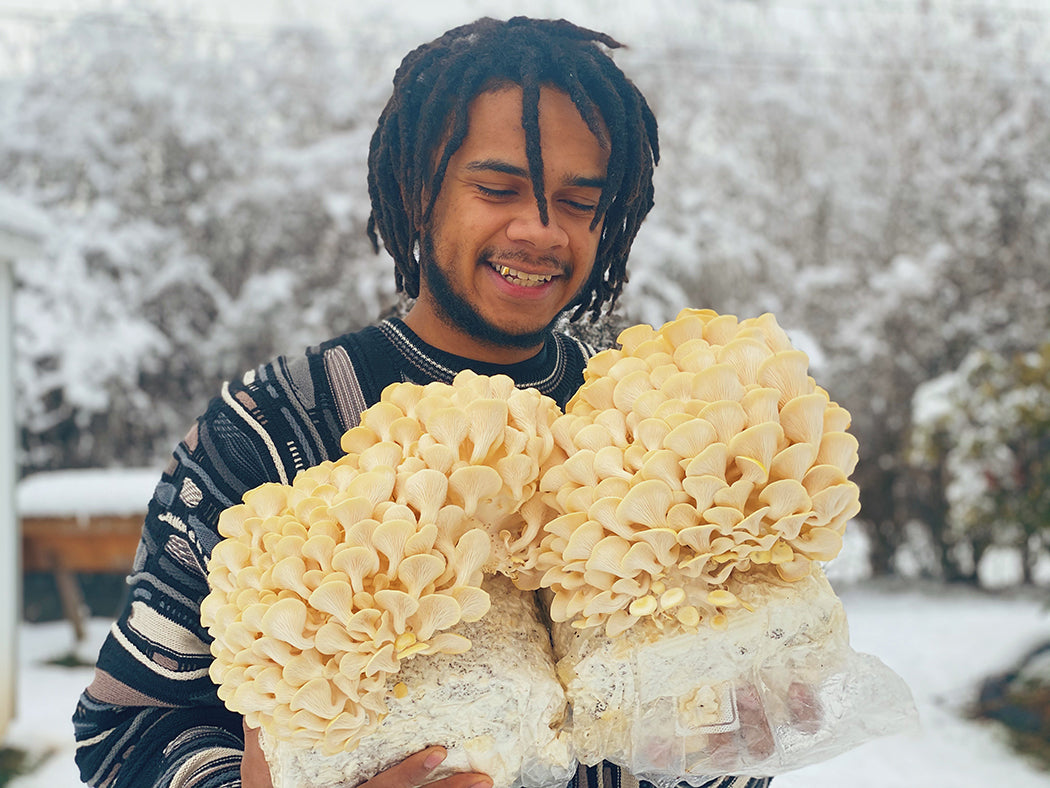 all photos courtesy of William Padilla-Brown
Undaunted by the lack of information in English, Padilla-Brown set about learning how to cultivate the fungi much as he'd approached permaculture from the beginning. He spent late nights closely watching YouTube videos in Chinese, and downloading manuals on the Internet, consulting online translation tools— there were some wild ones, he says. Eventually he felt confident enough to try it himself. "I realized I was the first person in the U.S. to produce cordyceps on a commercial level," he says. His guide to cordyceps cultivation is the first of its kind in English; he also sells cordyceps cultures, and continues to advocate for more research to make mushrooms and fungi more accessible, and most of all, to understand where they come from and how to use them. "Buying it manufactured, you lose that connection to the plant," he says. A company slogan is "rethink your relationship to the mushroom."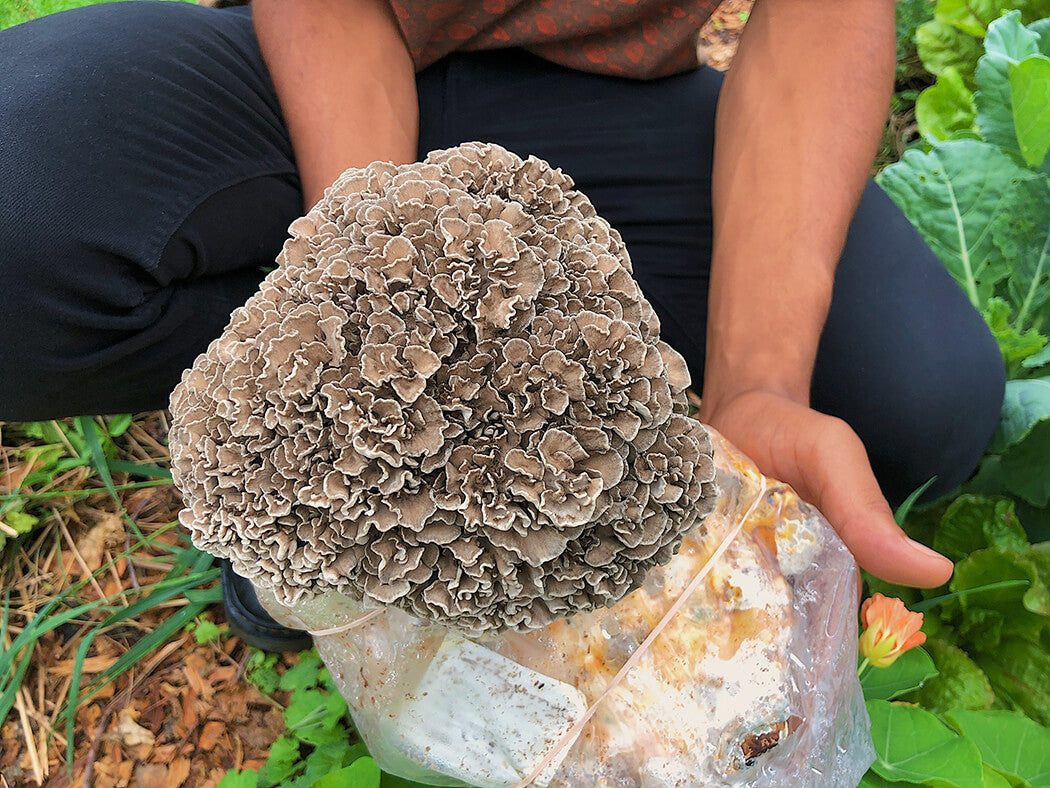 rethink your relationship to the mushroom
At MycoSymbiotics Mushroom & Arts Festival aka MycoFest, the annual late-summer gathering he's presented since 2015, Padilla-Brown endears to bring in new converts and experts alike. "I used to think mushrooms were slimy too," he likes to tell skeptics and haters. Once he learned how to cook them and which ones, he started eating mushrooms every day, and chef-created mushroom-centric dishes are at the core of the meals served at the festival, held on wooded grounds outside Harrisburg, Pennsylvania. Attendees are truly all ages, kids encouraged, camping on site in hammocks, cabins or tiny houses or yurts. Days are filled with yoga, art classes, mycology classes and lectures, and plant identification and foraging hikes. Regrettably this year's iteration has been postponed to 2021, which means the virtual communities he's created through music, publishing, and social media will take on extra significance during the pandemic.
In the meantime, he's looking ahead to the summer of 2021. "A lot of fellow nerds come and hang out, a lot of people who want to get immersed in this world," Padilla-Brown says. "I'm used to being the weird one in these spaces. It's so empowering to be around them all."
Also coming in 2021:
the HAOMA Mycelium Collection.
Sign up to be the first to receive our mycological offerings here.