Stepping Out of the Garden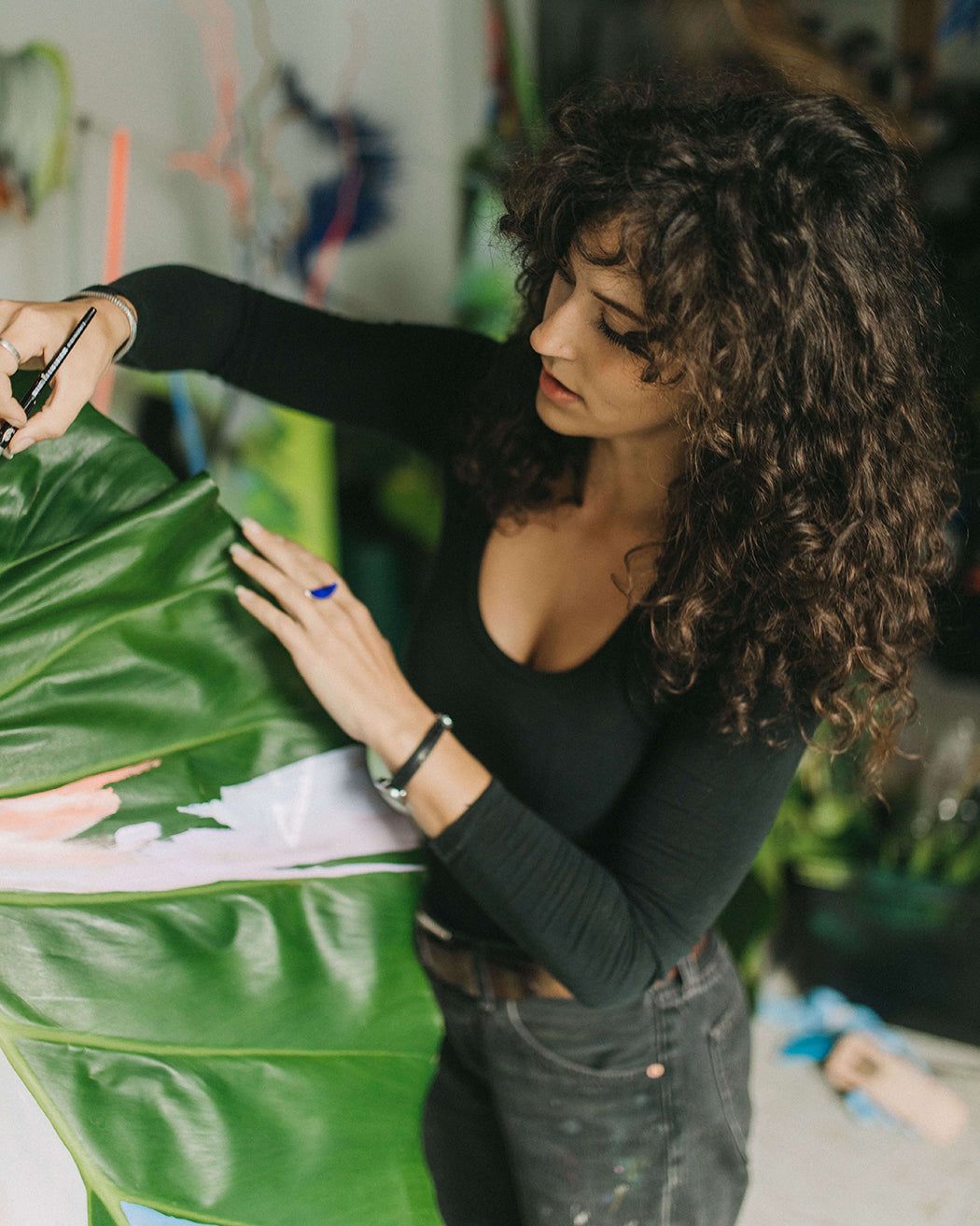 The Natural Rebellion of Sophie Parker
Words and Images by Sophie Parker
As Told to Diana Welch
Before I was painting on plants, I was painting plants.
I was making wild, loose 8-foot panoramic jungles, usually acrylic and pastel on canvas or velvet. Bizarrely, the work was very preoccupied with houseplants. I loved exploring the tension of a wild thing bound by interior space. As I painted, I would think about doctor's offices and insurance companies overtaken by vines and leaves - a silent wilderness growing in plain sight, America reclaimed.

It only makes sense that one day these verdant characters would grow beyond the canvas.
I was born in the Ozark Mountains in 1987. My parents decided to move there as they were passing through on a road trip. There was something about the land that held them there, something beyond the beauty of the verdant hills. Something that challenged them.
The Parker home in Highlandville, MO.
During my childhood, the land felt more like a character than a place.
It participated in the conversation, became a partner in my make-believe and, to each member of my family, it acted as a muse of sorts in the artwork we made. Our last name is Parker, and my mom (a painter) would always joke that my dad (a teacher) was genealogically preoccupied with sculpting our 25 acres into some bizarre vision of a park. Once, my dad brought a group of students from his Modern Art class out to our valley to help him make an imaginary lake. He cast a laser line out into the oak valley, spreading waves and particles into an even line along every tree trunk.
Even though I was only 11 years old, I was given a roller and a bucket full of home-made white wash along with the rest of the students.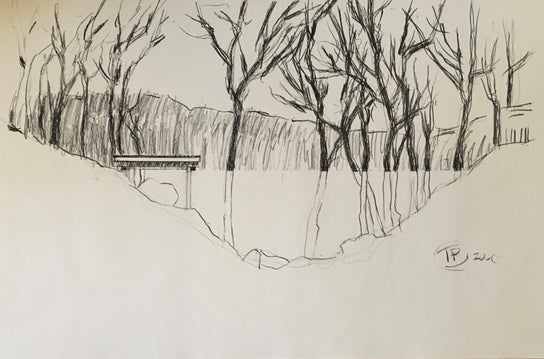 We painted the space between the ground and the laser until the trees suggested we were standing head deep in a dry lake bed.
Then we all helped him build a dock.
That might have been the first moment I realized one could blur nature and fiction.
That nature could play make believe, too.
When I left the Ozarks for New York City in 2013, I had all the expected layers of shock. How do you translate personal rhythms that had always been tuned to the land and sky to skyscrapers and subways? I had to change my definition of nature. The metropolis becomes an ecosystem. People become animals again. And the city itself a kind of organism - it breathes and eats and shits and photosynthesizes. A city isn't made against nature, it is another angle of nature; it evolved into being, and will probably evolve out of being. It is not so different from an imaginary lake levelled among the oaks.
"The line between art and nature
became blurry and exciting."
Once my definition of the natural shifted, so too did my relationship to it as an artist. The line between art and nature became blurry and exciting. Hybrids and remixed plants started to populate my habitat. Sculptural possibilities revealed themselves in a stem or a leaf and in my studio I started to bend and cut and shape and paint the plant life.
As a painter, I am always seeing color dance through the leaves
As a painter, I am always seeing color dance through the leaves, weaving in and out of natural patterns in the foliage, revealing a new vision of nature that is whimsical and vivid. My paintings were striving for the magic quality you feel as you explore a garden. The first time I experimented with live plants, it was like a whole new universe opened for me. Suddenly the garden itself was a canvas.

Here, finally, was the vividness I was seeking - it was something you could exist with, walk around, touch, and watch change through the lifespan of the plant. What had been a shadowy, still silhouette in a painting was now a living presence in the room.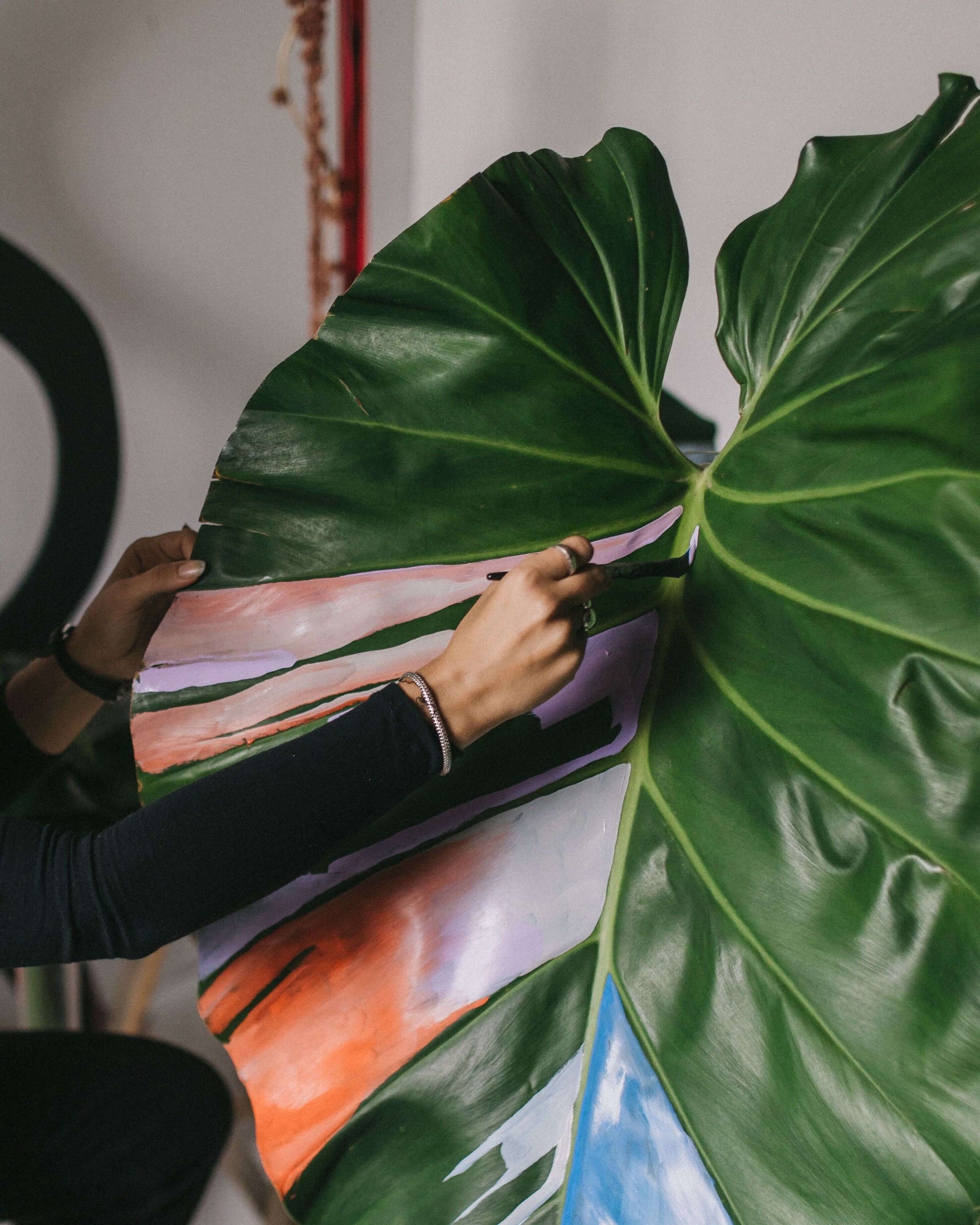 As I commune with these natural materials, we are in conversation with each other, reacting to presence.
For example, I am captivated by large leaves - I love their silhouettes. They become canvases - the surface of the leaf and the undulating veins inform my response. If I paint on a leaf, I let that leaf dictate the painting and the flow of color and pattern.

When we talk about beauty and florals, words like balance, harmony, rhythm, etc. always seem to fall from the mouth. I think they help us describe a beauty that we cannot express with words, but they can also become a cage for how we understand the ineffable. There is something limiting about the term floral arrangement, it feels very orderly, and it gives an inaccurate sense of my control in the process of its making.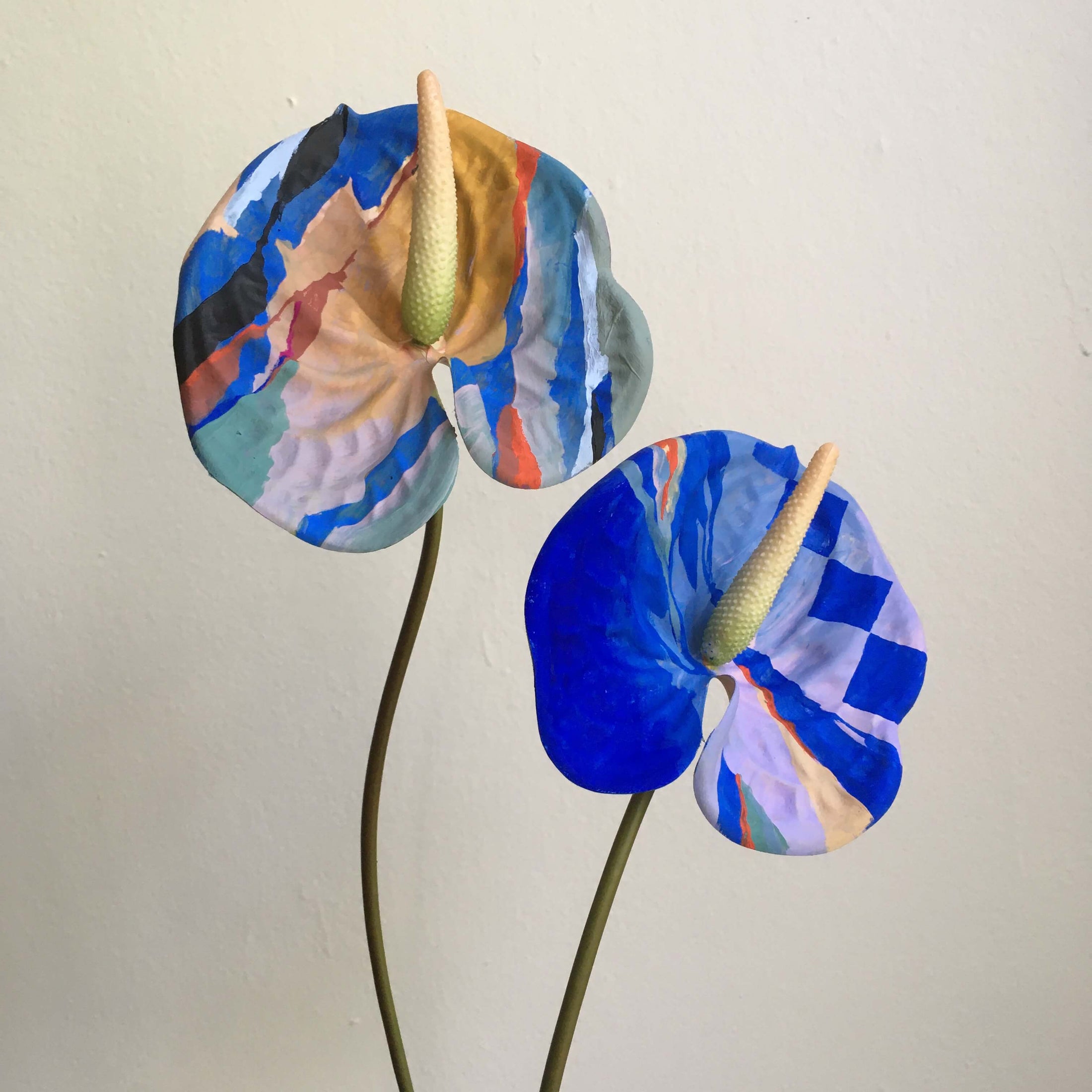 Natural beauty isn't held by any cage. I've tried to let my work wander away from those classical measures of the beautiful and even poke fun at how absurd it all is. There are so many stereotypes that accompany this medium and kind of work - especially when it comes to the gendered connotations we transpose on [mother]nature — and especially flowers. This is traditionally women's work, domestic in scope, and as non-threatening as possible.

Picture an image of a maiden clipping roses in the garden. Now overlay that fantasy with classical notions of floral arranging. Both are treated as beautiful specimens of purity and wonder, calculated and seductive, plucked for a viewer, presented in the domestic. There is so much deeply ingrained symbolism that ties sexuality and fragility to florals and it can be really alienating for many people.
It alienates me.
As a female-bodied person, growing up in the midwest where there are deeply ingrained ideas about how a woman should be, I found myself at odds with my culture. The name of my floral practice, WIFE, has come to symbolize a reframing of partnership and creativity, and a taking back of the feminine arts by giving them a new gravity of value and a new self-determined calculus for creativity. But really, the name started as a joke between friends about a rogue wife — a "Witch Wife," as Edna St. Vincent Millay might say, one who steps out of the garden, taking her own path of rebellion.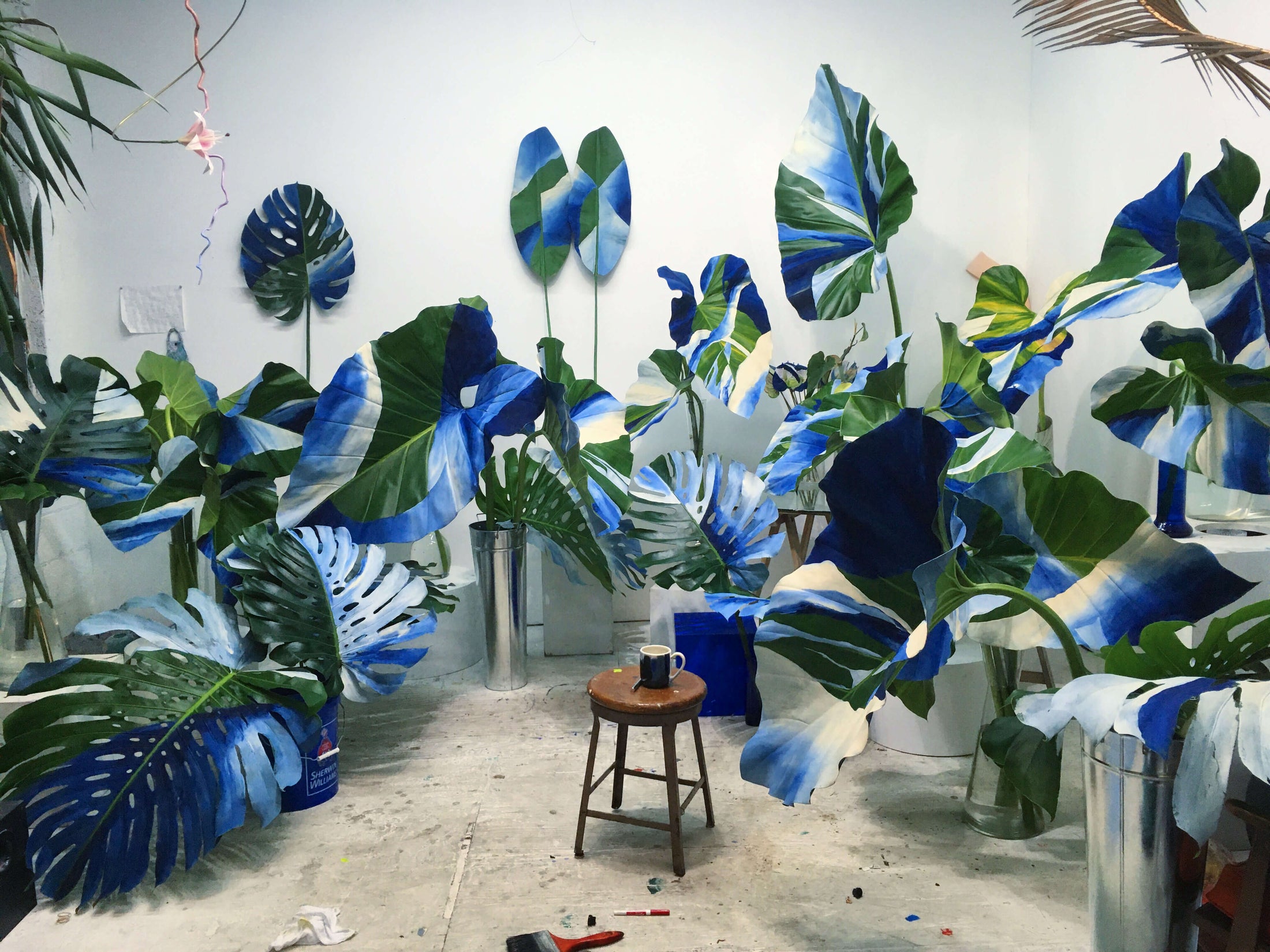 A view of Sophie's studio in Brooklyn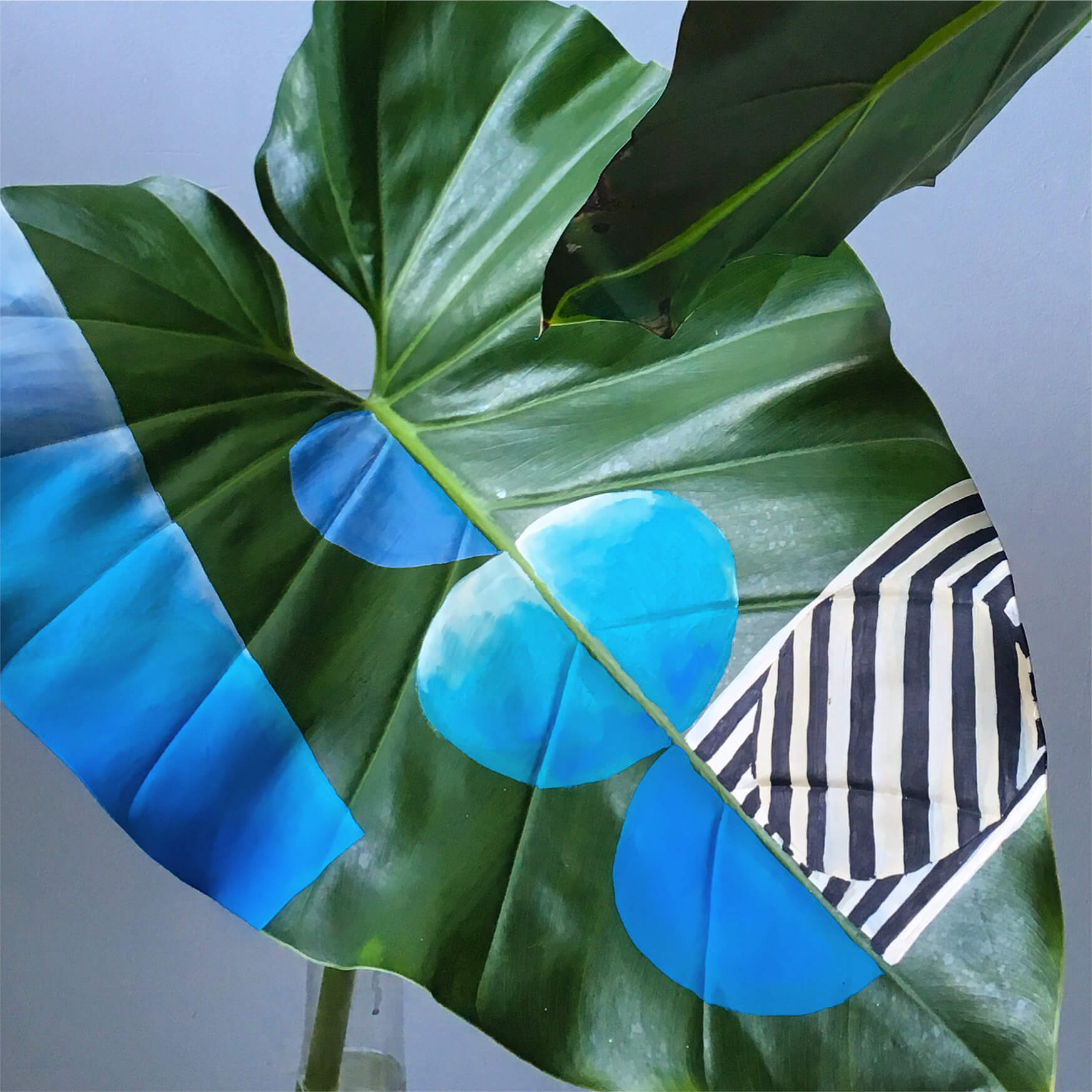 See more of Sophie Parker's work at www.wifenyc.com
Sophie's top Picks
Check out the artist Sophie Parker's favorites from our Cannabidiol Collection — "My skin ha never been so clear since I was basically a child," she wrote. "The Face Serum is magic!"
Shop Sophie's Favorites