Windward Leaves
Plant Spotlight: Green Tea
by Brennan Courtney
Photos by Jackie Lee Young
HAOMA Resident Herbalist Brennan Courtney is a teacher specializing in interactive plant identification, ethical foraging, and land management – as well as medicine making preparations, single plant study, anatomy and physiology, botany, and ethical practices for handling plants.

Here, she walks us through one of the key ingredients in HAOMA's Spiritus Vitae blend.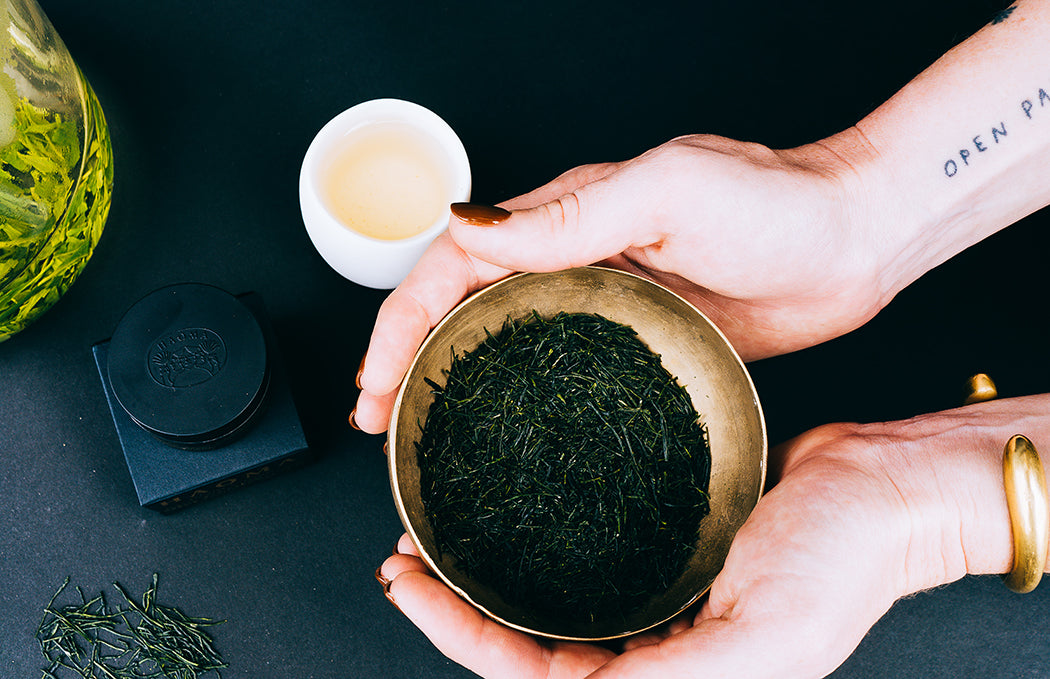 Also known as Camelia Sinensis, Green Tea has been a cornerstone of Asian culture for millennia.
The earliest use as a beverage dates back to 3000 BCE, when the mystical emperor Shennong supposedly discovered tea, or cha, by windward leaves drifting into his pot of hot water. He was invigorated by the beverage and began to drink it regularly and offering it widely to the noble class as well as working class citizens. Shennong was also responsible for the discovery of hundreds of medicinal herbs during his tenure, as well as agricultural tools that made life possible for his people.
To this day, we offer used tea leaves to the garden, to the earth, into a fire.
This is said to bring prosperity and health to the family and home. And, to overfill a tea cup (accidentally) is said to bring good luck.
Energetically, Camellia Sinensis is cooling and drying. It expels trapped heat in the body by stimulating secretions. It is considered bitter and sweet in Traditional Chinese Medicine. It brings energy upward in the body, refreshing the mind and enhancing alertness and clarity.
When it comes to wellness, Green Tea is one of the most well researched plants in modern history. As an ally in skin care products, its rich polyphenol content causes it to be a very powerful antioxidant, protecting skin from environmental stressors and healing UV damage.
we offer used tea leaves to the earth
Green Tea also possesses powerful antimicrobial and anti-inflammatory properties that are helpful for breakouts. The naturally occurring levels of caffeine helps to reduce puffiness, especially on the delicate skin around the eyes. As an active ingredient in our Spiritus Vitae blend, this powerful ally is present in all of HAOMA's skincare offerings.
3 SIMPLE WAYS TO INCORPORATE GREEN TEA'S BENEFITS INTO YOUR DAILY ROUTINE:
Make a cup of tea.
The art of properly steeping tea is a delicate one. Be careful not to steep too long. I enjoy taking the time it takes to steep the tea to watch as the leaves unfurl and change color, being mindful of color and aroma as it's nearing its peak extraction. To make a cup of tea that is not bitter or overly astringent, 1-3 minutes is recommended, depending on the size and thickness of the leaves.
Make a matcha face mask.
Applied to the skin, green tea and the super concentrated, powdered Matcha (same plant, different form) is revitalizing, calming and toning. To make, mix 1 1/2-2 tablespoons of matcha with enough steeped green tea (or water, or floral hydrosol) to make a paste. Add 5-10 drops of a neutral oil (Jojoba, Sunflower, Sesame, Olive). I make a blend of Jojoba, Rosehip Seed, and Green Tea Seed oil. Apply the mask to clean skin all over face and neck, being careful not to get too close to the eye area. Allow mask to dry for 6-8 minutes and then wipe away with a clean facial cloth and warm water.
Use Haoma's Soothing Eye Cream.
The Green Tea in Haoma's Spiritus Vitae blend really shines in the Eye Cream as a revitalizing, de-puffing and nutritive botanical. This, paired with the formula's full spectrum Cannabidiol, nourishes with Vitamins A, D and E — the results are truly astounding, both as a brightening cream and as a toning agent. When hearing from clients, this formula stands out as a hands-down favorite for all genders.