Ode to anEarth-Lover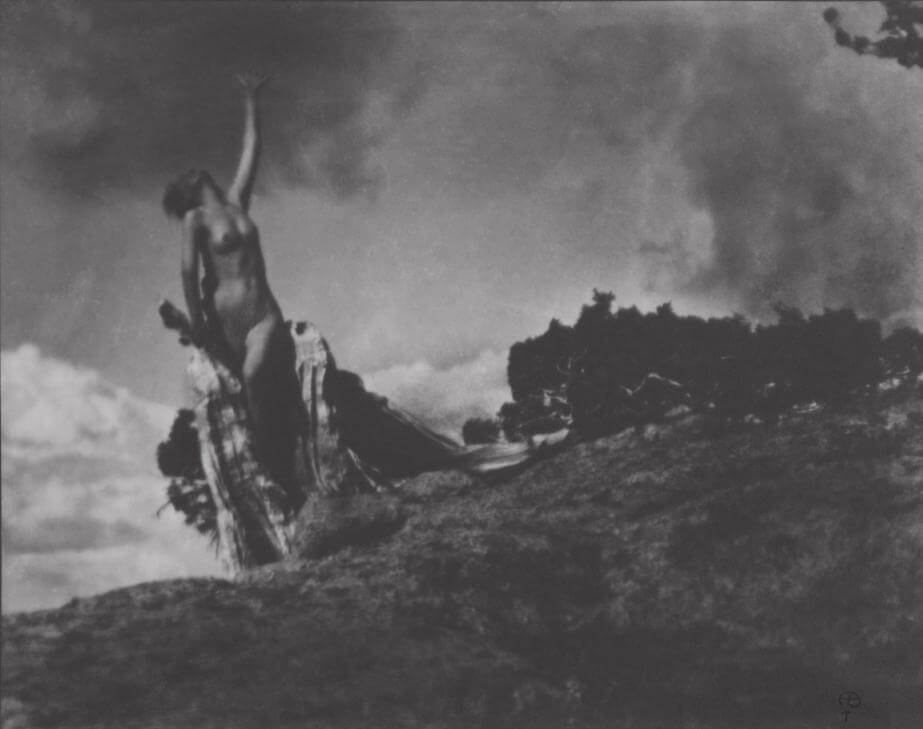 Anne Brigman, Soul of Blasted Pine, 1906
THE GROUNDBREAKING WORK OF ANNE BRIGMAN
by Rebecca Bengal
Born in 1869, Anne Brigman was ahead of her time.
In a time when women were expected to lace into corsets and wear floor-grazing gowns, Anne is believed to be the first American woman to have made a photographic nude self-portrait. And, she did so in terrain where few men were willing to travel. Working all over California, but especially in the then-underexplored and inhospitable Sierra Nevadas, Anne Brigman created images that revealed a fearless, spiritual reverence for the rugged worlds in which she wandered.

Left: Anne Brigman, The Cleft Rock , 1907
Right: Anne Brigman, The Source , 1905
The daughter of a missionary family, Anne spent her childhood in Hawaii envious of the children on the island who ran outside all day. When she was sixteen, her family moved to Los Gatos, California, and in 1894 she married a much older man, Martin Brigman. The two lived together in Oakland, where Anne made her first photographs, more conventional portraits of women, exhibited in 1902 in San Francisco.

But, soon Anne discovered her true subject in the remote, isolated terrain of Northern California. Taking a stagecoach to Sacramento, she'd head into the Sierra Nevadas on foot—desolate, tough, poorly mapped territory where even her guides were often loath to go.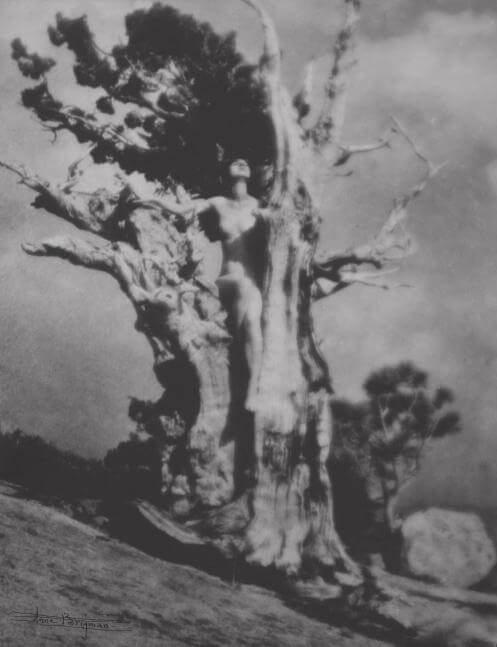 Anne Brigman, Invictus, 1925-26
Eventually, Anne and Martin drifted apart. She moved into a cabin studio with her dog Rory and "a dozen tame birds." She ran, barefoot, along the pebbly Marin County beaches. She headed for the hills—"back to heaven in my high boots, and trousers, and mackinaw coat"— where she set up her camera and then proceeded to ditch those things, too, piece by piece.
Left: Anne Brigman, Via Dolorsa , circa 1911/ printed 1912
Right: Anne Brigman, The Breeze , 1909/ printed 1915
It's where she felt
most herself.
THE IMAGES SHE MADE IN THE MOUNTAINS ARE BLURRED, FILMIC, DREAMLIKE. AT DAWN SHE STRETCHED HER BODY OVER A PRECIPICE, AND IN LATE AFTERNOONS SHE MARVELED AT THE YELLOW LIGHT THAT CAME INTO THE SKY AS A THUNDERSTORM WAS GATHERING. SHE CRAWLED, NUDE, OUT OF ICY AND SNOWY LANDSCAPES, FOLLOWED GLACIAL WASTES TO TREELINES, AND CLUNG TO MASSIVE ANCIENT REDWOODS AND BLASTED PINES. SHE LOVED TREES.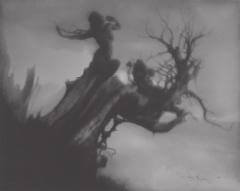 Anne Brigman, The Storm Tree, 1911
In her art, Brigman was a bridge between the Victorian pictorialist of Julia Margaret Cameron and the liberating modern choreography of Isadora Duncan, who always endeavored "to put into my movements a little of that divine continuity which gives to the whole of nature its beauty and its life." In her writing, she was an adventurously bohemian and assertively female answer to Walt Whitman, whose poems she admired.

Yet, despite the ground she broke as a proto feminist artist, her work only entered the Metropolitan Museum of Art as part of Alfred Stieglitz's collection. And, two decades after her death, a 1971 review of her work in The New York Times described her a "gifted amateur" while also noting that "the time is surely near when we will once again be able to appreciate her serious intentions."

Well, thankfully the time is now. Anne Brigman's first retrospective occured last year when more than 300 of her photographs were exhibited at the Nevada Museum of Art, accompanied by the beautiful Anne Brigman: A Visionary in Modern Photography, out now from Rizolli.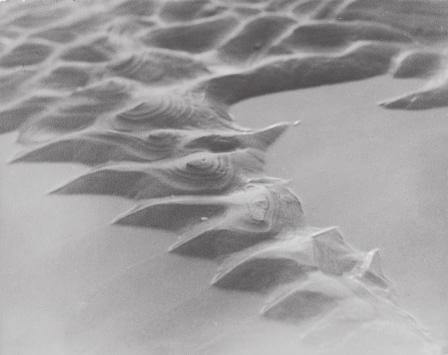 Tucked into a hidden compartment in the box set is a tiny jewel of a book called Songs of a Pagan. It's a volume of poems and photographs by Brigman originally published in a 1949 edition, a year before her death in 1950. In it are Anne's unabashed psalm-like love poems to nature, with titles like "Tryst with the Wind" and "Earth-Lover." In one such poem, called "Nirvana," Anne longs for the "sheer, wild heights" of her beloved mountains and "the whisper of the wind or the cougar's scream."

Whether in woods or water, Brigman always found her way home in the wilderness.
"I have come to the ocean...,"
she concluded, "and I belong."