Raised in the Woods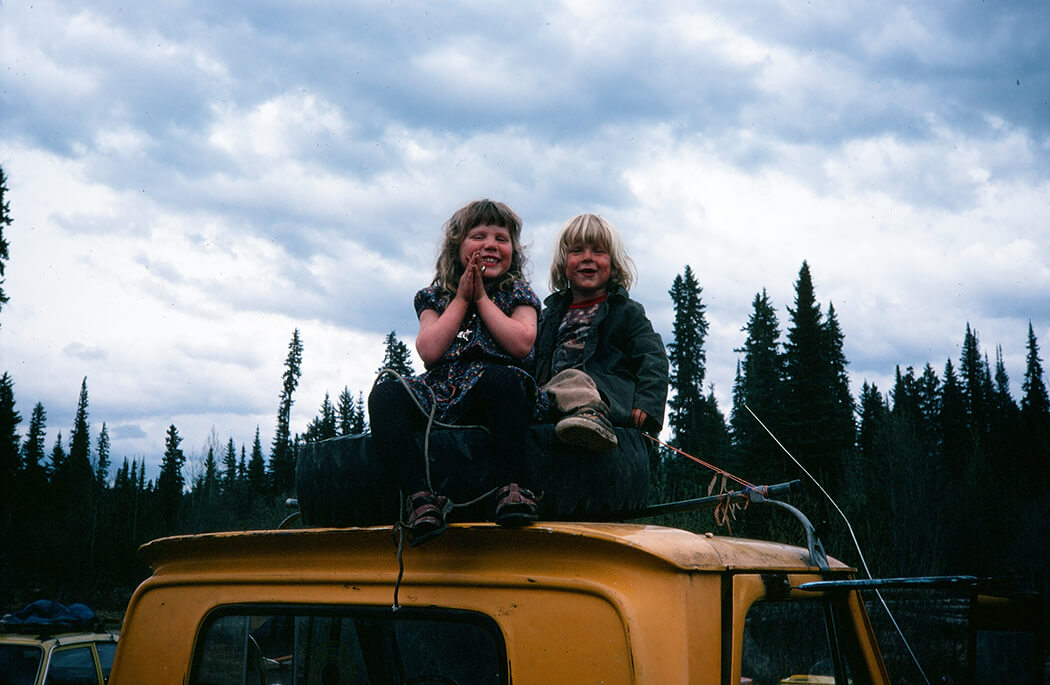 GROWING UP IN THE REFORESTATION MOVEMENT
by Rebecca Bengal
Featuring photos by Daniel James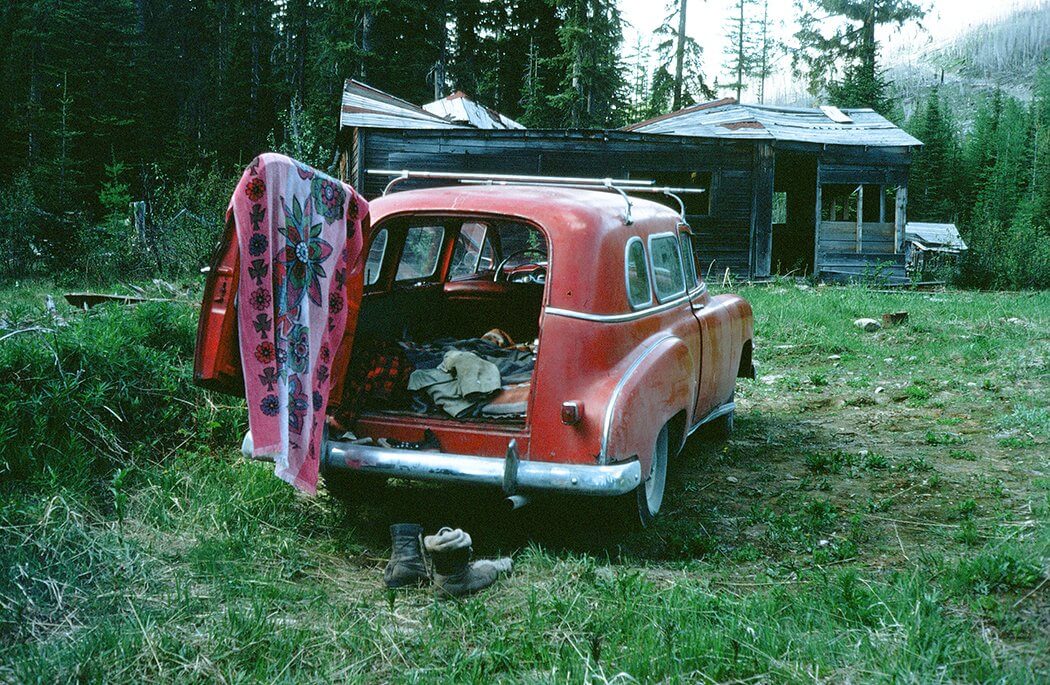 FOR THE FIRST YEARS OF NAHANNI ARNTZEN'S LIFE, SHE WAS RAISED IN THE WOODS.
Her young parents were part of a crew of tree planters who lived in camps in the remote Kingcome Inlet region of British Columbia, north of Vancouver Island and accessible only by boat or float plane. In the late 1970s, they and fellow workers would arrive by barge every February to set up communal camps, weathering the elements for eight months at a time and planting 1.5 million trees every spring.
They weathered the elements for eight months at a time, planting 1.5 million trees every spring.
Born inside a teepee within a First Nations community, Arntzen was very nearly named after her father's beloved Dodge truck. (Instead, she was named after the Nahanni River in the Northwest territories.) When her mother returned to camp a few days after her birth, Arntzen's crib was a treebox.

Now the designer behind the Portland, Oregon-based label and shop that bears her own name, Arntzen has worked as an actress, a boat building apprentice, and a furniture maker. She's also a documentarian with various film and book projects in the works. Several years ago, the first of these projects was the photobook Nahanni Reforestation, inspired by a brief move to Utah, where Arntzen sought to reconcile the new and unfamiliar landscape with her own memories of growing up in the middle of a remote and dense forest.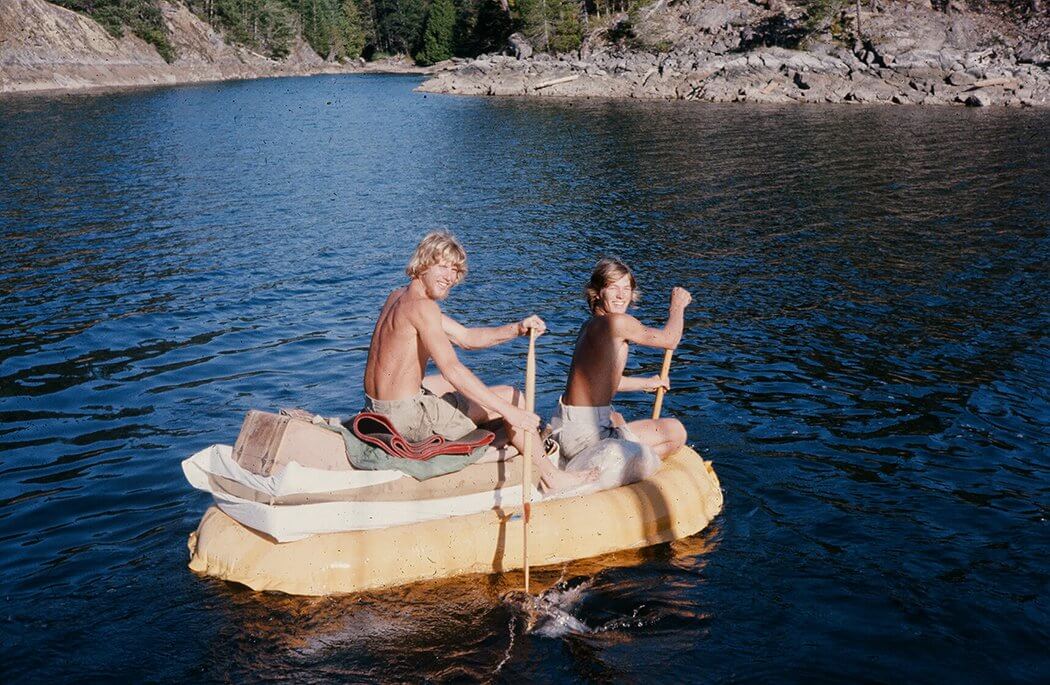 She wanted to show her young daughter pictures of her own childhood—"not a very traditional living situation," according to Arntzen, even after the tree planting years, and definitely one without family photo albums hanging around the house. So she reached out to her father, Daniel James, who retrieved a collection of Kodachrome slides stored for years in his basement—pictures his daughter had never seen—a record of her own childhood, and a rare, beautifully rendered, comprehensive archive of a vital and little-known period of ecological history.
A rare, beautifully rendered archive of a vital and little-known period of ecological history
"Here was the visual proof of all these things that had become part of my memory system," Arntzen says from Portland, where she lives now. "All my recollections of the place are through the filter of being 'the kid at camp'—hanging around the dogs and cooks at the camp kitchen shacks when everyone headed off to work all day, sleeping in tents during rainstorms, playing around the logging roads outside in my own little worlds. But the photos also showed a larger story."
In the 1970s, Canada's silvicultural industry was in the midst of a notable shift: Loggers left behind vast swaths of barren earth, and soon independent growers began taking on extensive tree-planting contracts to promote regeneration and create sustainable forests in remote clear-cut lands. It was work that appealed to Arntzen's father, fresh from a Kerouac-inspired hitchhiking trip across Canada and eager to keep living off the grid. "My mom was 19, my dad was 20 and already running his own crews, doing prep for this huge amount of time in the wilderness," Arntzen says. "It's pretty incredible to me now what they did."
Loggers left behind
vast swaths of barren earth
People from the tree-planting days still recall her father's camera slung around his neck, but few of them remember him actually taking any pictures. Sneakily candid, Arntzen favored verité-style pictures of camp life: dirty, happy planters piling into trucks, the campfire guitar sessions after a long day's work, the sheer feeling of knowing you were standing in the midst of an isolated place that very few people would ever get to see.

He chose Kodachrome as his medium, so that he could mount slideshows at the wrap parties held at the end of each planting season before the workers all left camp. The photographs, eventually collected in the book Nahanni Reforestation, and on an Instagram account of the same name, are vivid and near-idyllic, despite the hardships they also document.
Crews lived in primitive camps through heavy spring rains, snows, and all kinds of weather. "They relied on the shittiest vehicles for all this work," Arntzen says—in Nahanni Reforestation, her father's handwritten journal pages and essays detail flat tires and other mishaps. "They called the trucks they drove"—including the one she was almost named for—"'crummies.'" Once, she was so jealous she begged to tag along with the crew on a day of work. I'd tell my parents, 'You guys all come back all filthy and dirty and I wanna go out with you!'" The excitement faded after a few hours in the field, but long hours wandering on her own instilled a lifelong attachment to the woods.
"TO THIS DAY MY BRAIN REALLY DOESN'T FUNCTION PROPERLY
UNLESS I'M OUTSIDE"
"To this day my brain really doesn't function properly unless I'm outside," Arntzen says. "I just knew I had to create whatever I wanted to have fun. I didn't have a lot of constraints on me about what I believed was possible. So I never get bored. And I'm not afraid of being alone."

Daniel James' last tree-planting contract wrapped in 1986, but tree planting contracts still exist in Canada today. In her late teens, Arntzen gave it a shot herself, joining a crew managed by an uncle and a cousin for a season. "I learned exactly how hard it is," she says.
At the time, workers were paid about ten cents per tree planted. On her first day, Arntzen struggled to plant 75 trees—the equivalent of about $7.50. Camp costs were about $20 a day; at this rate, she calculated, she'd owe hundreds of dollars by the time the season was over. But she stuck it out, working up to a thousand trees a day. "It's a quick thing to get you in shape," she says. "You make friends with everyone you work with and you don't spend money. And you're a part of something."

In Vancouver, several of the tree planters from her parents' days share a neighborhood and a history—seeds for another of Arntzen's future documentary projects. "They've got these amazing photo archives and journals too, of this magical time that influenced the rest of their lives," she says.
As countries from Ethiopia to Ireland launch major tree-planting initiatives and the United Nations is promoting tree planting as a way to mitigate urban heat island effects and slow the effects of our climate emergency, reforestation has a renewed urgency. But planting trees the way Arntzen's family and friends did inspires something greater – and harder to come by.

"When I look at my dad's pictures, they're about this necessary happiness that we sometimes lose sight of—the communal experience, the romantic aspect. This idea of community and communication becomes more important as people grow more distant from each other," Arntzen says.

"It's something that, deep down, I think we all want to get back to."