Listening to the Language of Flowers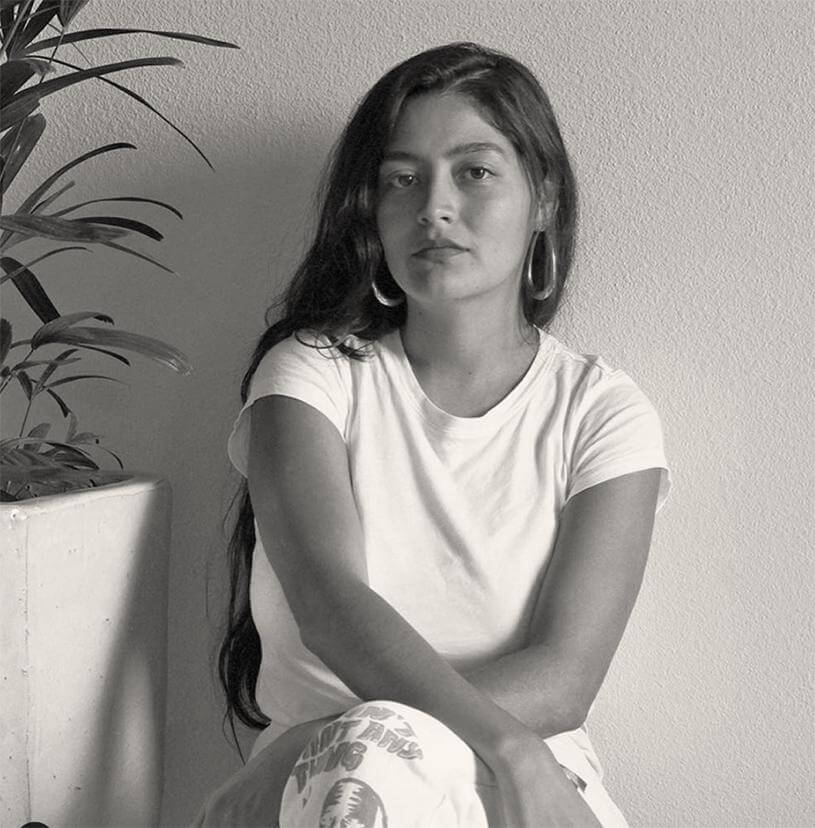 photo by Benson Ellis
WITH VERONICA ORTUÑO
by Diana Welch
It makes total sense that flowers
serve as a sort of sacred vocabulary for Veronica Ortuño:
one of her earliest floral memories is watching stems being placed at the foot of La Virgen de Guadalupe statue, another is the scent of lilies at a funeral.

Both times, she was at church.
And anyone can see the holy quality in the riot of petals that rained down on Veronica and her husband on their wedding day in Oaxaca,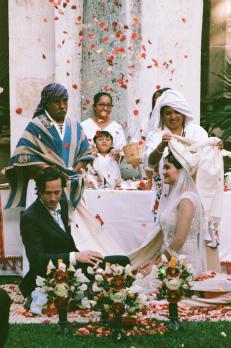 a Ceremonia Zapoteca Prehispánica performed to bless the future they'll share together while honoring Veronica's own ancestral past.
This reverence for flowers runs in Veronica's blood.
Her grandfather Papañiel religiously tended his small garden in Santa Ana, California, full of rose bushes, nopales, bougainvilleas, orange, lemon, lime, and guayaba trees, and his favorite, the alcatraz. To this day, her grandmother Hermalinda meticulously embroiders elaborate floral designs on linen, which Veronica now lovingly collects for her home. Veronica embodies this spirit of care with her personal ikebana practice, something she has been exploring informally since 2011.
Courtesy of Casa Veronica
"The main principle is the representation of heaven, human, and earth within a floral arrangement," she explains. "There are strict rules and systems in ikebana, but I just try to encompass the main principle within the yin and yang of life — life and death, beauty and ugliness, perfection and error."
Veronica's talent for intentional assemblage
isn't just limited to florals.
Over the past decade, Veronica has built an international following as the founder of the groundbreaking boutique, art gallery, and community space known as Las Cruxes. While the sculptural merchandising of the shop alone could be considered an art form, what she managed to create within that space extended far beyond the shop's physical walls.
Left: After a show with Chronophage, Altamira, and Syko Friend at Las Cruxes, 2018. Right: From a 2018 PRISCAvera editorial shot by Jinni J. for Las Cruxes
In Veronica's own words, Las Cruxes was always meant to be "a place for experimentation…
where art, fashion, music and culture intersect." Veronica's impeccable curation – along with her commitment to creating community and her inclination toward the avant garde – transformed the underground art scene of Austin, Texas, elevating and expanding it in immeasurable ways.
She transformed the underground art scene, elevating and expanding it in immeasurable ways.
In March of 2019, Veronica shuttered Las Cruxes' physical space to give her latest venture her full attention. Now, with Casa Veronica, she's turning her unique curatorial eye to interior design, where she's taking considered minimalism to another level – informed, somewhat, by her ikebana practice.
"I MAKE AN EFFORT TO BE SENSITIVE TO THE QI OF EVERY PIECE WITHIN THE ROOM AND THE SPACE AS A WHOLE"
Ortuño credits the ancient Japanese art with helping her tune into the energetic flow of actual physical spaces. "I make an effort to be sensitive to the qi of every piece within the room and the space as a whole – this flow is the key element of what creates the atmosphere and how someone experiences it," she says. Most telling, perhaps, is the way she approaches the meditative practice itself. At her home in Elgin, Texas, Veronica creates her arrangements in complete silence, in order to be fully present and attuned.
"With each arrangement,
I'm attempting to listen to
the language of the
flowers," she explains,
"and invoke their spirit."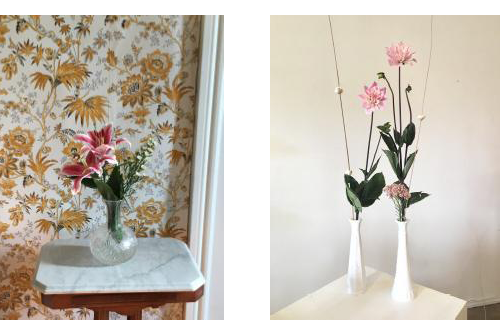 Set styling by Veronica Ortuño for "Mathis", a film for Las Cruxes produced by From The Range. Shot at the historic Mathis House in Rockport, Texas.

Courtesy of Casa Veronica