Fleeting Flowers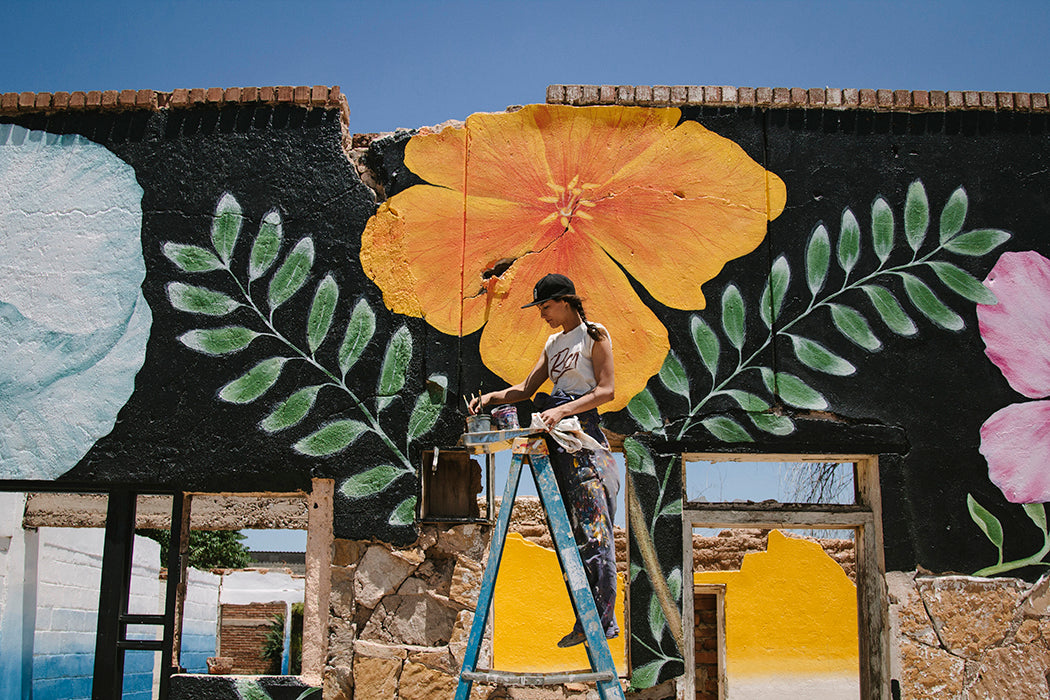 Velia De Iuliis paints the plants we need to protect
Interview by Dustin Beatty
Our world is changing.
Through our human habits, we've managed to alter the natural order of things: paving over paradise, diverting how rivers run, and consuming resources that trickle down to endanger flora and fauna. These are issues that require preservation and conservation — ideals that inspire the art of Velia de Iuliis, a painter and muralist whose work focuses on the "fleeting flowers that may disappear completely in our lifetime."
"History shows us that humanity can be destructive; at times unpredictable, disloyal, selfish and cruel," de Iuliis explains.
"I continue to find peace and hope within the natural world where instinct is unwavering and questions are answered."
Her work not only inspires a reverence for rare and threatened species, but also straddles the border of awareness and activism. Here, she shares her thoughts on how art can be an instrumental part of elevating our love for Mother Earth — and our hopes to save it.
Can you tell us a little bit about where you grew up and what life was like for you?
I had a happy upbringing in the eclectic city of San Francisco.

My parents, Swiss and Italian immigrants, fostered curiosity for the world and nurtured my ever present need to draw and create. Much of my youth was spent outdoors, whether in the backyard or in nature. I was fortunate enough to travel and visit relatives abroad, which became foundational experiences and evolved into fundamental influences in my work.
What is your earliest connection to plants? When did you first pick up a brush and start to paint them?
Although making art and exploring nature has always been a huge component in life, focusing on flora and fauna as painting subjects came later during my illustration thesis in college. I created ten illustrations highlighting plant and animal species that aided in healing ailments. It was quite an untraditional theme, but I wanted to produce a research-based thesis that quenched my curiosity for both natural science and art. That experience started a creative evaluation that has led to the work I paint today.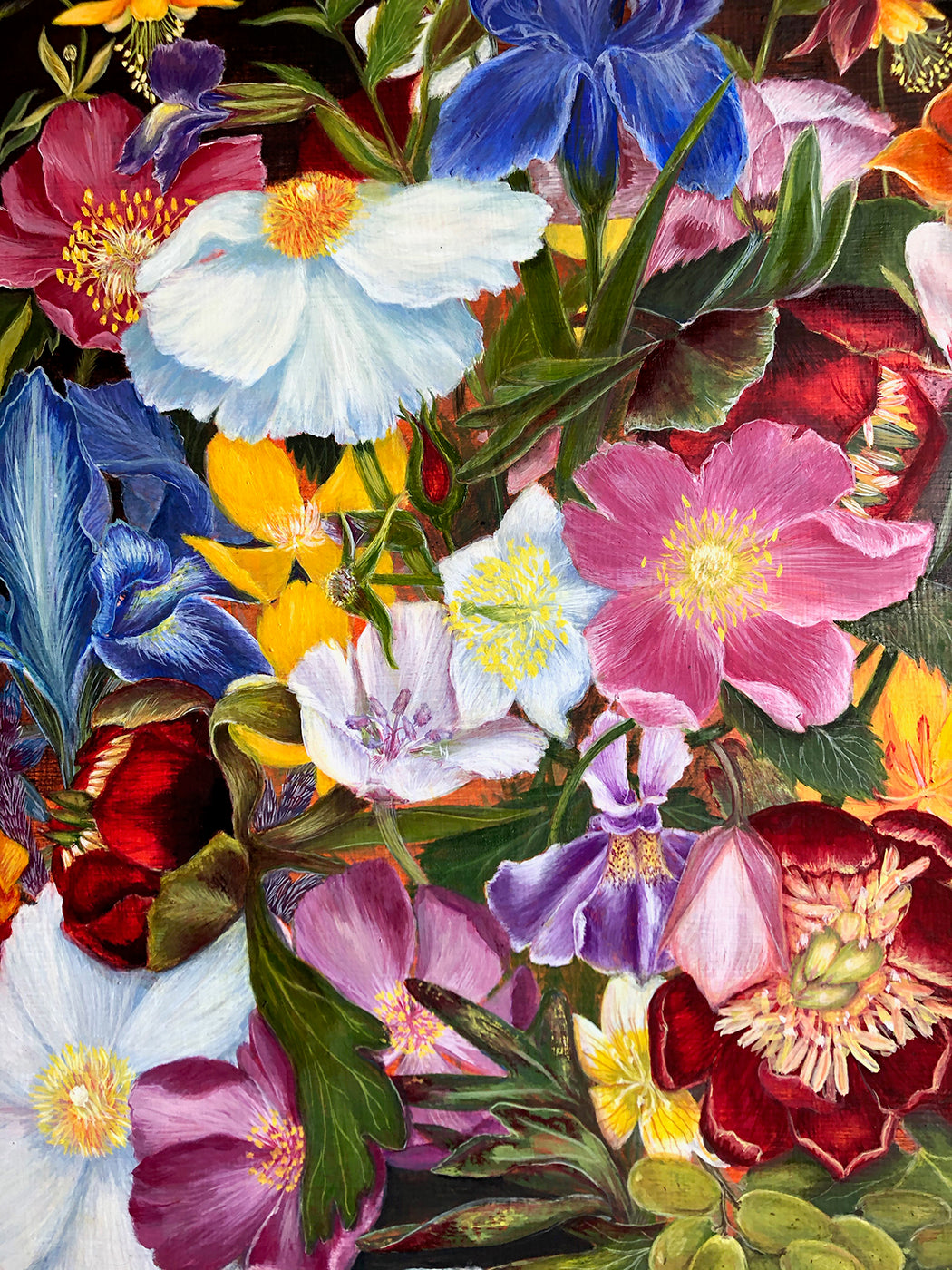 Was there a particular moment when you chose your current direction of painting endangered plants on sharp backgrounds?
Post-thesis, it took me a while to find my approach and purpose for making art. I was questioning how I could best connect to my audience. Eventually, I found that using nature as a vehicle to address current global events was an avenue that fed my creative drive but it wasn't until I focused on endangered species that I found my rhythm and purpose. Using a rich black background allowed these plants to be the focal point and also nods to my love of 16th century Flemish still-life paintings.
Have you seen a lot of your subjects in person and do you have a favorite plant to paint?
Unfortunately, endangered species are hard to come by, but I do enjoy painting from life when possible. I've been enamored with the Proteaceae family of flora. After a recent trip to Australia, I had the luxury of documenting Banksias, Waratahs and others that have become my current favorites to paint. They are exquisite, raw, strong and diverse flowers with a rich depth of color and variation textures.
Your murals are a stunning representation of how something out of context can engage the viewer in such a thoughtful way.
Thank you so much. Giving back to a community through art is both vital and deeply fulfilling; for this reason I love painting murals. I recently had the privilege to paint a mural at the Mexican-American border in Agua Prieta, Sonora. This was a life changing experience because this particular location is greatly impoverished and cartel run. I spent 20 days painting, in which time I fostered relationships with the locals who opened up about life at the border and the hardships that come with Mexican-American politics.
What are some of your self-care rituals?
My self-care rituals include a great deal of exercise. Boxing, surfing, running etc. keeps me balanced and happy. A beautifully cooked meal and a good ol' living room dance party feeds the soul; I mean, why not?!

My daily skin-care routine has always been quite basic; sunscreen, face wash and occasionally an oil. Whether it's because I've been too preoccupied with studio work or simply overwhelmed by the numerous options out there, making time for my skin hasn't been a priority. The introduction to Haoma products has changed both my perspective and effort. I find that the rich textures, high quality ingredients, conservation efforts and beautiful packaging design has made my morning and evening rituals a joy. I love having a Day and Night face cream - but the Body Cream is absolutely my favorite. It truly softens my dry hands — and did I mention the divine smell?

These products are simply unique and make you feel the same.
Velia's Favorites
"The Body Cream is absolutely my favorite. It truly softens my dry hands — and did I mention the divine smell?" — Velia de Iuliis
SHOP NOW