Desert Bloom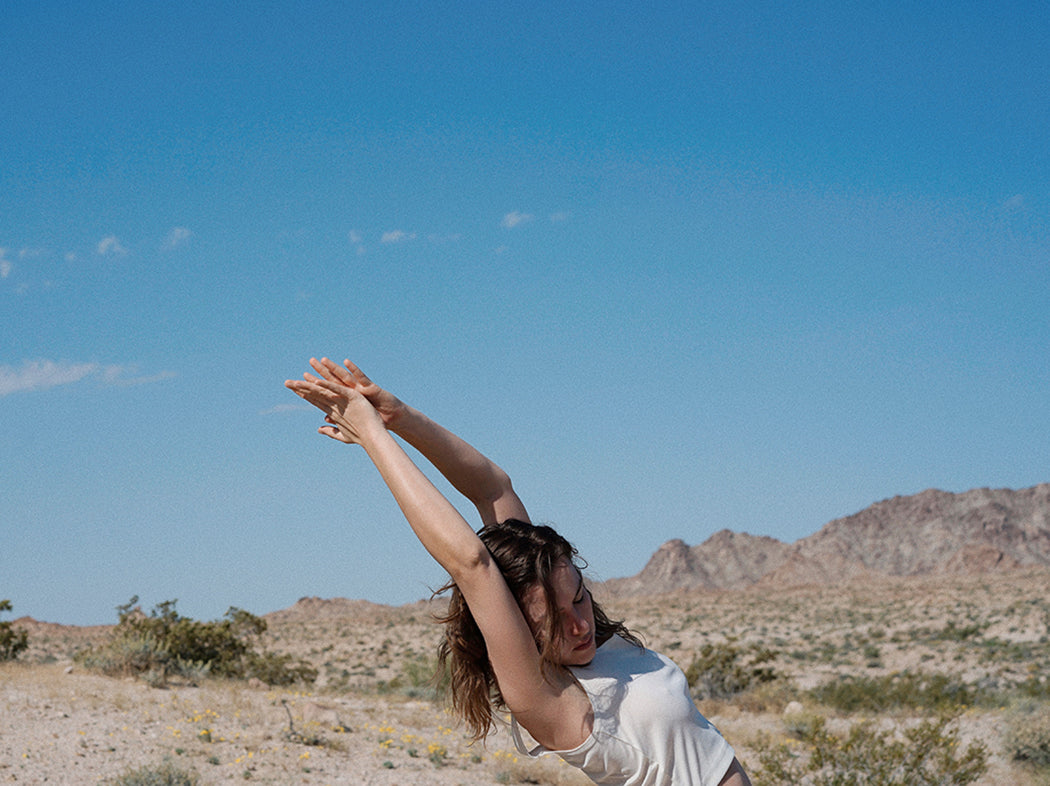 An Exploration of Pleasure Within Difficult Spaces
written by Candice Thompson
images by Michael Townsend
featuring choreographer and dancer Lara Wilson
The desert is a landscape littered with cliches.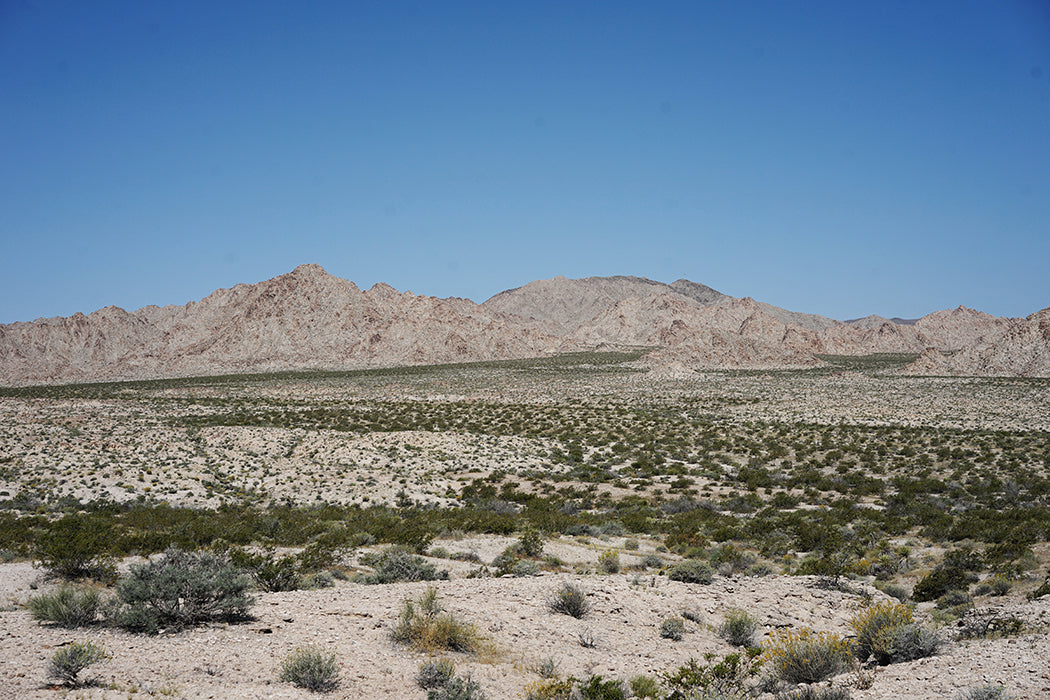 It is an ecosystem all too often dismissed, or celebrated, as dry and season-less — a forbidding place, thirsty, where tumbleweeds blow and bones turn to dust.

And yet, if you find yourself in the diverse environment of the Mojave Desert in Spring, you may be lucky to bear witness to its mythic superbloom.
This annual event shows off the ecosystem's Zen master nature, forcing two opposing thoughts into your mind at once: sharp and soft, dusty and lush, intimate and vast.
This past May, partners and artists Lara Wilson and Michael Townsend used the flowering desert as a studio, maintaining their respective choreography and photography practices during a pandemic, collaborating with each other and the spring season.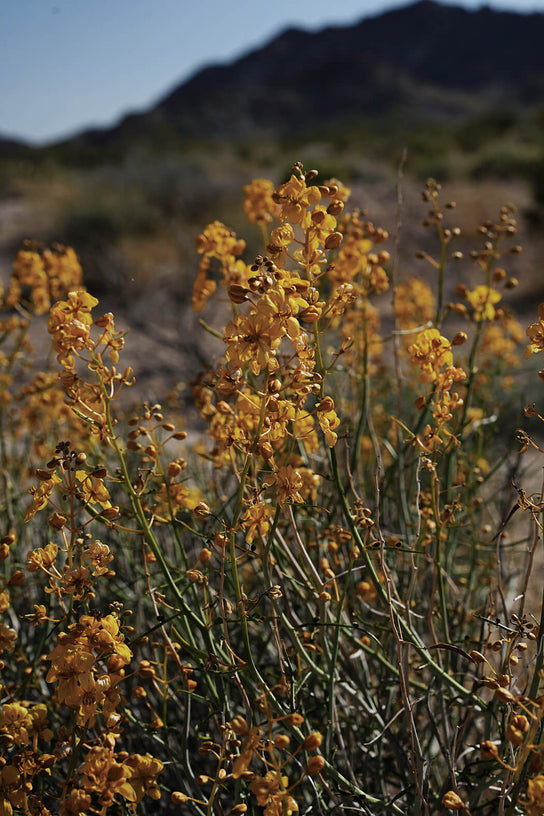 The mountains, creosote bushes, yucca plants, flowering hedgehog and cholla cacti, wildflowers, and infinite sky are juxtaposed and co-mingled with a highly articulate movement practice, exploring how barren times,
or periods of rest,
can yield spectacular blooms.
barren times, or periods of rest,
can yield spectacular blooms
"When something huge happens, something that changes life so drastically, it is hard not to step back and simply appreciate the awesomeness of nature," says Wilson. Stay-at-home ordinances in the Joshua Tree area gave the couple ample time to observe the spring awakening of their own garden; each day, they'd check on the expanding and contracting beavertail cactus blooms in a patch in front of their home. Evening walks took them into the surrounding wilderness, where spiny senna was beginning to coat the landscape in bursts of yellow buds. This breathtaking transformation, anticipated over the course of a long and precipitous winter, seemed oblivious to the news of the day.
At the very least, it invited some small measure of documentation, like a message carved on a tree trunk: we were here.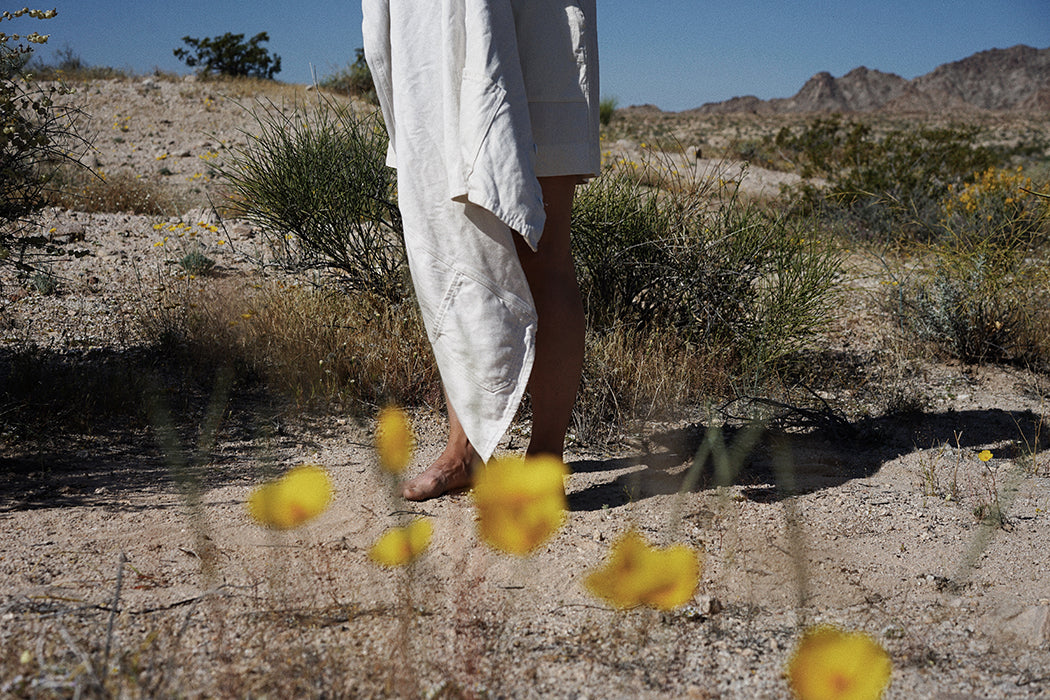 "I didn't want to feel central to this piece," says Wilson. "I wanted to collaborate equally with both Michael and the environment." The pair have been married nearly six years and have spent a few of those years traveling up and down the coast of California; two years ago, they opened the art space Compound YV in the high desert. "This was a peaceful collaboration, it is usually not that smooth," she says, laughing. "I listened, he listened. I think it goes back to the idea of insignificance. Little things that I would have cared about no longer matter, and the pressure sort of disappeared. I am also getting more confident in my body and in front of a camera as I get older." Wilson's movement language is often soft and subtle, so she experimented with the quality of abandon in order to take advantage of Townsend's blurring technique which almost flirts with the erasure of the body through motion.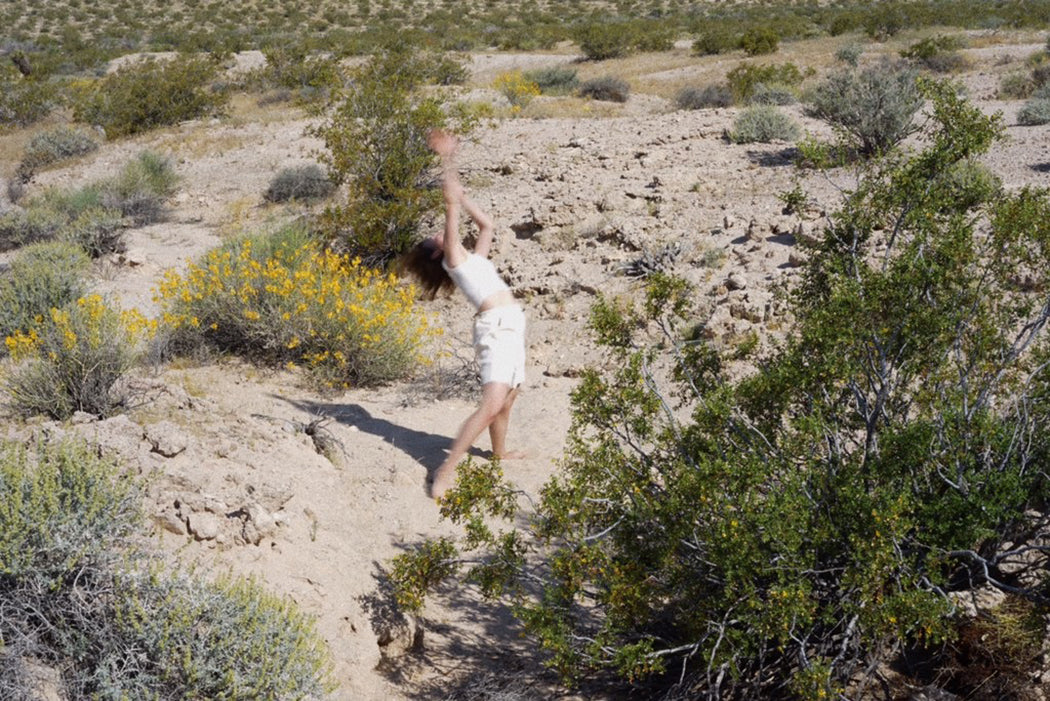 While Wilson has found relative freedom in quarantine,
Townsend feels more resistant to its limitations.
Inclined to surround himself with lots of people or to depart on ambitious travels at whim, the decision to take a spontaneous drive to an undetermined location to create these images was an adventure of sorts, satisfying both of their needs. "I've always been attracted to movement," says Townsend.
"I didn't know it would look like this when we met, but Lara has introduced me to an art form that I love shooting." Making the space to appreciate the other's perspective—their own diminutive figures against such a powerful backdrop—was a salve for a trying time.
The photographs, as imprints of that moment, seem to say: it's ok, pleasure still exists within difficult spaces.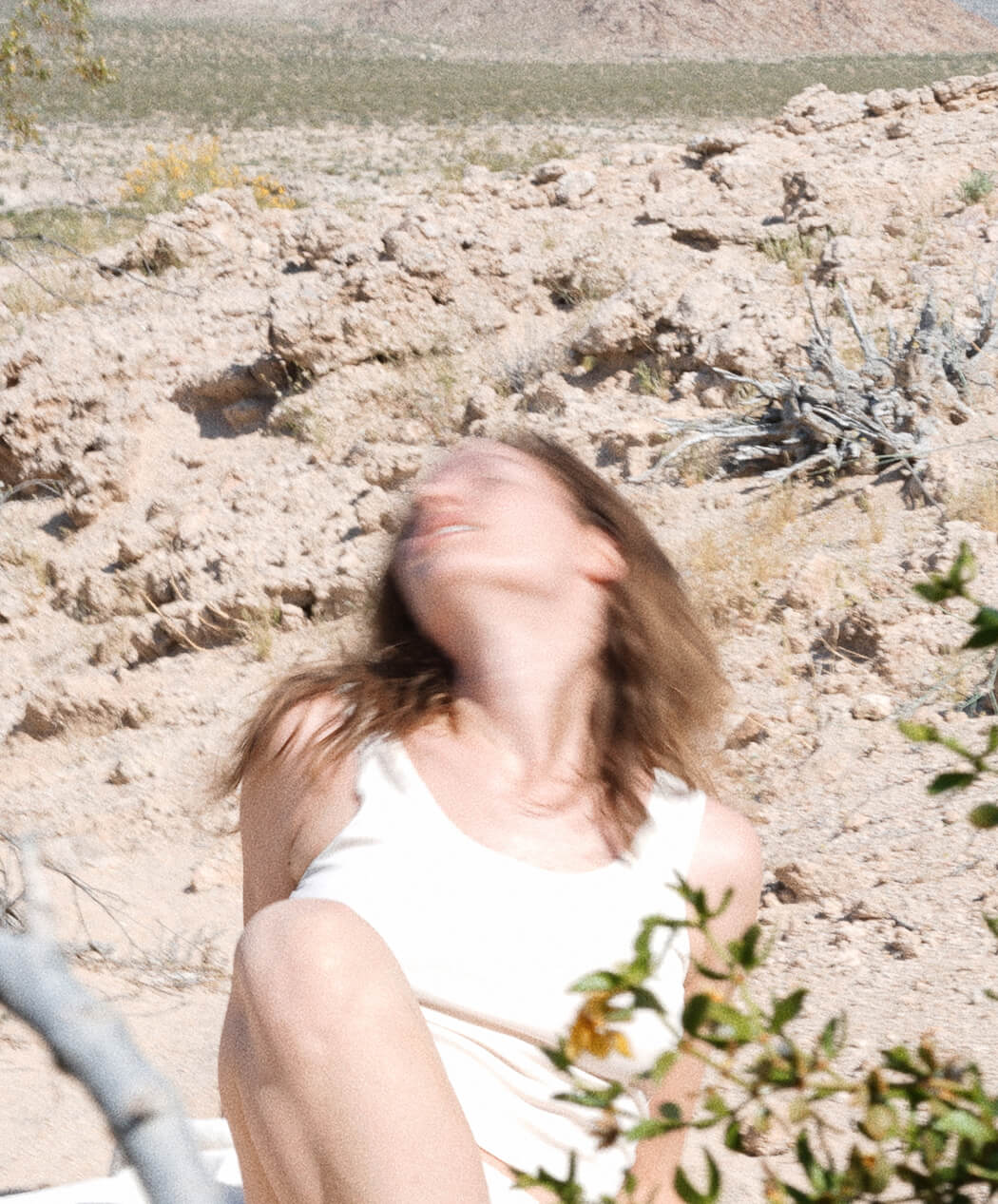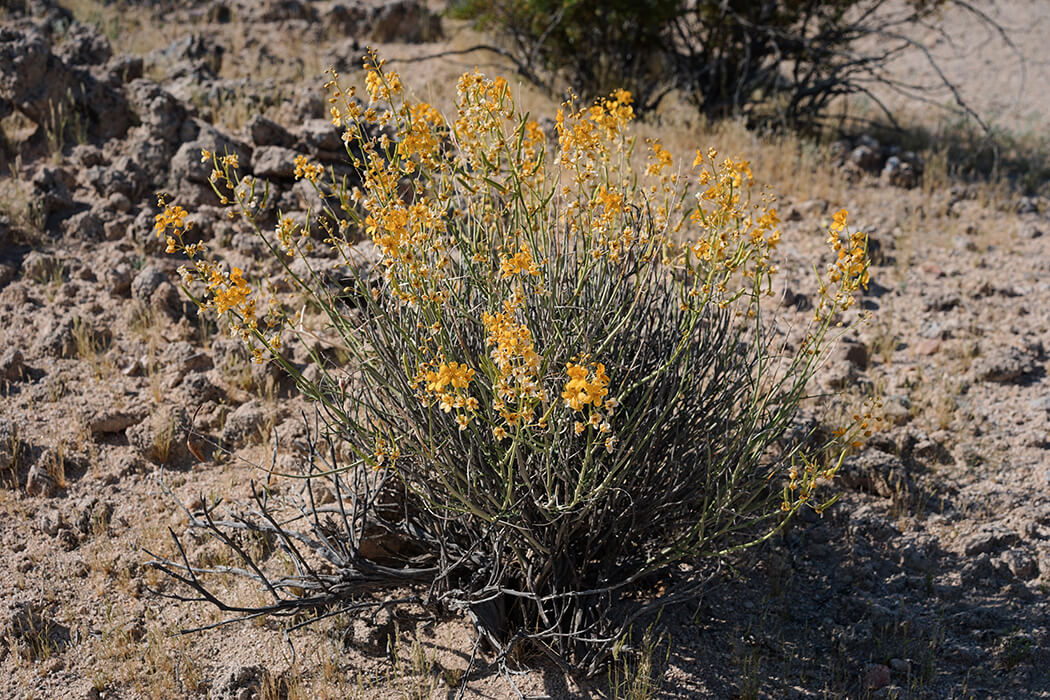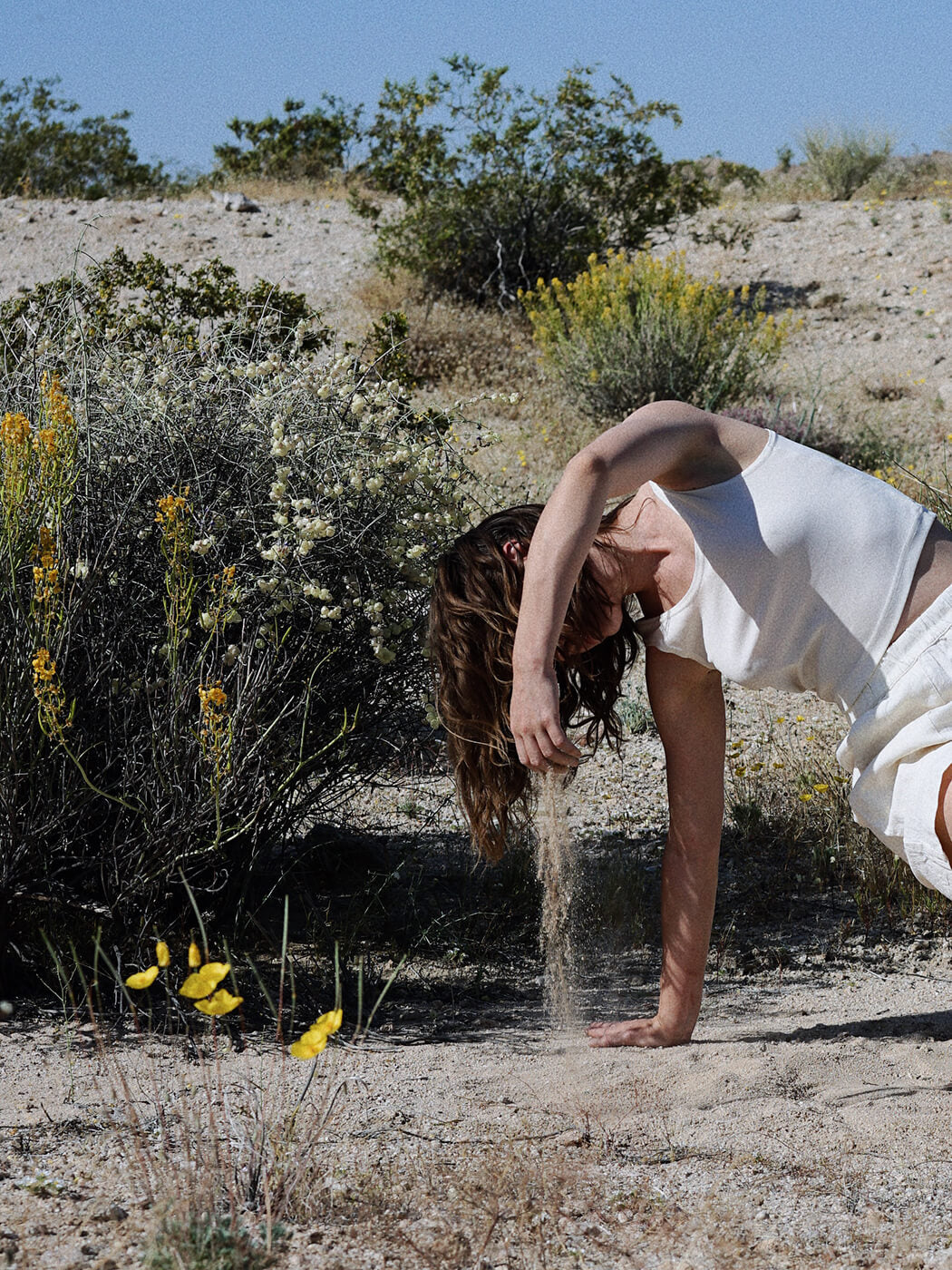 Candice Thompson and Lara Wilson Townsend are co-founders of All Movement, a resource for creative teams wishing to tell stories through dance and fitness. Michael Townsend is a photographer.
You can dive into his work here.