A Bit of Disruption
Kenting Forest in Taiwan by Jessica J. Lee
It's Time to Decolonize Nature Writing
by Emma Warren
Photos courtesy of Jessica J. Lee
The willowherb plant,
also known as rosebay or fireweed,
thrives on disturbed ground.
"Its seeds do well when transported to new and difficult terrain," explains Jessica J. Lee, the British-Canadian-Taiwanese author and environmental historian behind The Willowherb Review. "I was raised on British children's books, so I had this ideal of landscape that involved a lot of badgers and hedgerows, these lovely cosy fields," she recalls. Growing up in Ontario, Canada as the child of immigrant parents, Lee's early concepts of nature were imbued with British Empire's point of view. "It's significant that so many of us carry this with us, even though we've never set foot in Britain."
The Willowherb Review is about disrupting that disconnect.
Karwendel Mountains in Bayern, Germany by Jessica J. Lee
"It's important to ask questions about how immigrant communities think about nature landscapes,"
Lee says over the phone from Berlin, Germany, where she now lives. "A lot of writers at Willowherb offer that shifting of perspective — away from exoticism and travel narratives and towards a sense of attention and closeness, a local perspective that extends far beyond the conventional borders of what we're used to reading in English."
The latest edition contains prose and poetry...
... ranging from Londoner Mohammed Zaahidur Rahman writing about family car journeys through the city-edging Epping Forest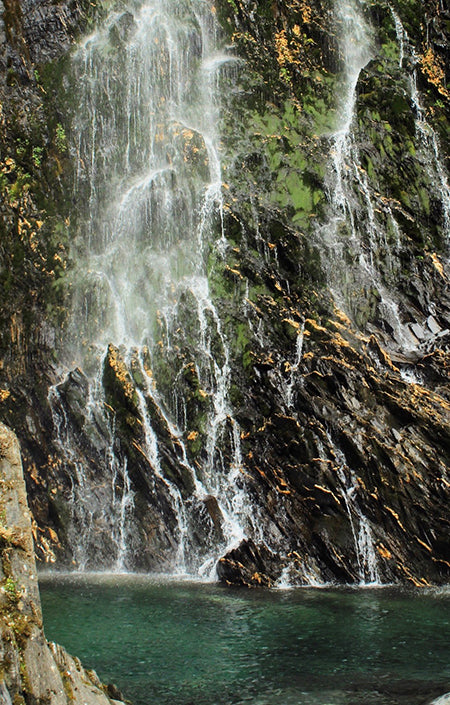 ... to Sona Popat's perfectly-pitched poem that brings the Kenyan Keri tree to life for those of us who've never climbed one on our way to school.
Issues of migration, displacement and diasporic ingenuity are reflected directly - and indirectly - within its pages.
"These shouldn't have to be issues every writer of color has to address," she says. Referencing recent Nan Shepard award winning Nina Mingya Powles, she continues: "[Nina] distrusts the conventional idea of the nature writer. She's not ploughing up mountains and putting herself through incredibly difficult ordeals in the wilderness. It's much more everyday and subtle and personal. It's good to have that shift away from the lone adventurer."
Shuiyang Forest in Taiwan by Jessica J. Lee
Lee's own writing reflects this, too.
Her first book, 'Turning: A Swimming Memoir' recorded her attempts to swim in a different German lake every week for a year. Her second book, Two Trees Make A Forest – which will be published in the US in early summer – traces her family histories alongside a personal investigation into the Taiwanese landscape, including a trip to the Shuiyang forest lake. This once-thriving forest was flooded during the devastating 921 earthquake in 1999 and now provides new life in the shape of mosses, ferns and the fish which dart around her as she wades into the earthquake lake.
Researching the book also meant diving into Taiwan's rich tradition of nature writing, including writers like Wu Ming-yi and Liu Ka-shiang.
"This work has become incredibly successful in the literary world there. It's much more tied with activism and a real concern for the environment."
Willowherb's mission of broadening the scope of nature writing is resonating within literary circles across the world. The last issue attracted submissions from over 70 writers, from across South East Asia (particularly India), as well as South Africa, Australia and New Zealand. And, when best-selling British author Robert Macfarlane won the Wainwright Prize for his novel Underland, he contributed a portion of the £5,000 prize money to The Willowherb Review. It was an act that echoed Lee's groundbreaking work in this area and which shone new light upon it.
The Willowherb Review
is sowing the seeds of change.
"A bit of disruption, that would be my goal," Lee says.
"It's about representation. It's about readers and writers of the future seeing themselves reflected."